Recycling
From garbage to innovation
When Nantongo Juliet took to the streets and dumping places in Kampala's filthy suburbs to collect used plastic bottles, many people thought she was mad. They didn't realise that this young woman would use old plastic bottles to build a foundation for a better life.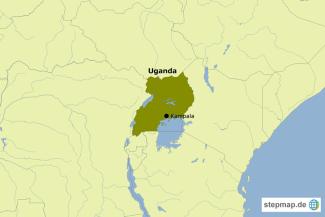 stepmap.de
24-year-old Nantongo was born and raised in poor conditions in Kisenyi slum. She had little  access to education. With other youth from the slums, she earns some money by collecting used plastic for recycling firms. "This way, I developed an interest in recycling. A friend gave me the start-up capital for a recycling business," Nantongo recalls. "It was hard, I could not afford to hire people to pick up items for me, but together with my siblings, we collected bottles and washed them."
Nantongo has been selling bottles to a growing number of recycling companies and mini-factories which actually have a high demand. Recycled containers are used for packing local-made products like oil, herbal medicine or peanuts. Moreover, manufacturing industries make buckets, jerry cans and bags from recycled plastic. As time went on, Nantongo Juliet got more orders, and she managed to employ 13 young people from the slums.
In the meantime, she has built herself a two-bedroom-house in Kampala. "I'm finally out of slum life where I used to share a room with my parents and siblings," Nantongo happily says.
The recycle business improved her life and that of her family. Her business contributes to environmental protection moreover.
Environmentalists normally do not like plastic and polythene products because they do not decompose. It's common to see used plastic waste littered on streets, gardens and runways, and even blocking the drainage system. People try to get rid of the waste by burning it, which results in air pollution and health hazards. Only a small amount of plastic trash is collected and recycled.  
25-year-old Maureen Akurut has also created a job from garbage – literally so: She turns polythene bags into women's handbags. After graduating from university, Akurut spent six months on the streets of Kampala hunting for a job, but in vain. At a friend's party, she met a guest with a beautiful handbag. "I said, 'this is a nice bag' and the lady told me she made it herself, out of old plastic bags," Akurut recounts. "I was impressed, and she agreed to teach me." Akurut started making handbags herself. Her business soon picked up. Today she employs two young women and even gets orders from beyond Uganda.
Ezra Suruma, the chancellor of Makerere University, has appealed to Ugandans to "engage in innovations". Akurut and Nantongo have done exactly that, inspiring others and creating jobs while saving the environment.

Gloria Laker Aciro is a former war reporter who now heads the Peace Journalism Foundation of East Africa. She lives in Kampala, Uganda.
glorialaker@gmail.com
Twitter: @GloriaLaker

Link:
Living Earth Uganda:
http://www.livingearthuganda.org/