Gender
Sexual harassment in Delhi
23-year-old Ajda plans to visit an area of Delhi she doesn't know. First, she quickly checks a website to see people's reviews of that area in terms of sexual offences. That is a necessary precautionary measure.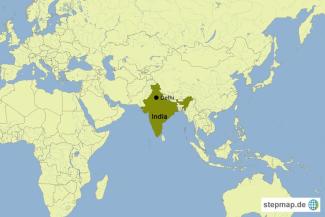 stepmap.de
A report from the Thomson Reuters Foundation considers India one of least safe countries for women worldwide, with the capital Delhi being one of the worst places. Rape is the forth most common crime against women in India, according to the National Crime Records Bureau. In 2012, the conviction rate for rape was only 24.2 %. However, the majority of the cases are never even reported.
Elsa Marie D'Silva is a co-founder of the internet platform "Safecity". It is a non-profit initiative. The website documents personal experiences of sexual harassment and abuse in public spaces. It is based on international models set in countries like the Netherlands and Egypt. The idea is to challenge perpetrators who are comfortable in a certain location and believe that their sexual offence would go unpunished.
 "The infamous Delhi gang rape in 2012, where the victim died of injuries, sparked discussions in the public about women's safety and sexual crimes," Elsa Marie D'Silva recalls. "I was shocked that basically all women had experienced harassment but had never spoken about it. I knew that I wanted to address this issue." Together with Saloni Malhotra and Surya Velamuri, the tech-savvy young women launched Safecity on 25th December, 2012, only a few days after that brutal gang rape. "Within a week's time, we had received 24 reports from all over the country. We realised we were onto something," recalls Elsa Marie.    
Safecity uses Open Source technology to allow anyone who has been harassed in public places to tag the location of the incident on a map. She only needs to go to  www.safecity.in, no registration is required. The reports describe what happened when and where. They are the base data which is then processed, measured and acted upon.
At a personal level, a user like Adja can get information about the "creeps" she can expect in a certain area. On the other hand, the data can be used to advocate for change in specific areas or put pressure on government authorities to listen to the public's demands.
This was done by women in Dwarka, a suburb in New Delhi. Female students from some of the colleges located in Dwarka showed the Delhi Metro Authority officials the data and demanded that more policemen be on patrol in the evenings, so women and girls might move around safely in that area. The authorities acted, and more officers patrol Dwarka in the evenings now.
According to one of the founders of the Safecity platform, "with hard data, you can hold authorities responsible. We are using this logic to create safe cities for women."
Roli Majahan is a freelance journalist and photographer. She lives in Delhi, India.
roli.mahajan@gmail.com
Link:
http://safecity.in/