West Africa
Starting anew
After months of political turbulence and only three months after a failed military coup, Burkina Faso has a new, democratically legitimate president. Roch Marc Christian Kaboré won the first round of the recent presidential elections with 53,5 % of the vote. The run-off election many observers had expected was not necessary. Kaboré campaigned as an opposition leader and is a former prime minister. Zephirin Diabré, a former finance minister, came in second with 29,6 %. He conceded defeat immediately.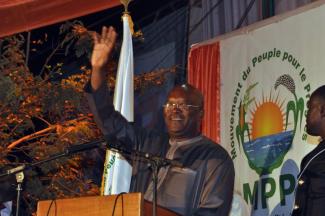 Landov/picture-alliance
The elections were a turning point in Burkina's post-colonial history. The country's 19 million people have seen months of political agitation. A broad-based protest movement rose up when Blaise Compaoré, the former president, announced in late 2014 that he wanted to change the constitution in order to run once more. He had first grabbed power in coup in 1987. The protest movement forced him to resign. A transitional government was in office for about one year, and members of the Presidential Guard tried to topple it three months ago. The protest movement thwarted their attempt however.
The recent election marked the return to democracy. Since becoming independent in 1960, Burkina was mostly run by leaders who came to power in military coups. The recent elections were held in a peaceful and democratic manner. Observers consider this a promising sign. That Compaoré was unable to impose his will on the people is relevant to people in other African countries, such as Rwanda or the Democratic Republic of the Congo, where presidents want to change constitutions in order to stay in office. Burundi is still being rocked by violence since President Pierre Nkurunziza was re-elected to a third term in controversial elections this summer in spite of the constitution only foreseeing two terms per president.
The Burkinabé hope Kaboré will deliver the political stability he has promised. He was the country's prime minister from 1994 to 1996 and the speaker of its parliament from 2002 to 2012. He fell out with Compaoré last year and started a new, centre-left party called Mouvement du peuple pour le progrès (People's movement for progress). The broad-based movement Balai Citoyen (Citizen's broom), which forced Compaoré to resign, will stay active as a civil-society movement, but has not established a political party of its own. (sb)