Private sector
Rising ambitions
The economies of many sub-Saharan countries have grown fast in recent years. Accordingly, companies in the formal sector have become stronger. Some of them consider the entire continent their home market and are running operations in many countries. Josef Boven of DEG, the KfW subsidiary that finances private-sector development, assessed the scenario in an interview with Hans Dembowski.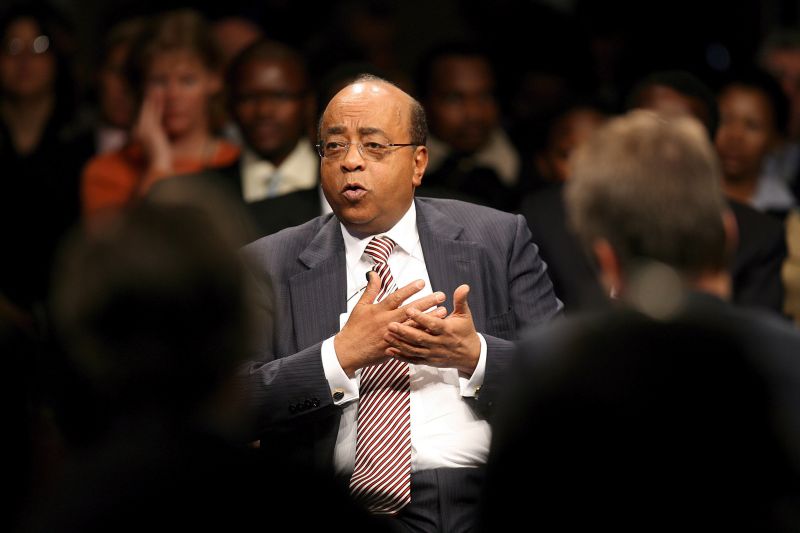 Bothma/picture-alliance/dpa
What kind of sub-Saharan private-sector company is active across the entire continent?
Three industries matter in particular: banking, telecommunication and retail, with retail driving food processing and consumer-good production too. It is noteworthy, moreover, that private equity funds are increasingly engaged in Africa, and they normally plan at continental and regional levels. The management of private equity funds is most professional and expects high profits, and that in itself should encourage other investors.
Let's consider the financial industry first. What kind of African banks are internationally active?
Generally speaking, the financial sector is still somewhat underdeveloped in many parts of Africa. Many poor people do not have access to it at all, and even small and mid-sized enterprises (SMEs) struggle to get loans. Observers note, however, that a number of big African banks are increasingly operating at continental or regional levels. Standard Bank from South Africa has become pan-African in this sense, and so has Ecobank Transnational. Most of Ecobank's clients are Nigerians, but the bank was initially started by the chambers of commerce of several nations with support from ECOWAS, the Economic Community of West African States. The trend is healthy. The range of financial services is growing, and operations are becoming more professional. At the same time, ever more banks are expanding into neighbouring countries within their region. One example is I&M Bank in Kenya, which now has subsidiaries in Rwanda and Tanzania. To support this regional strategy, DEG has become a shareholder of I&M Bank, and so has our partner Proparco, the French development finance institution which promotes the private sector in a similar way as DEG does.
Are other global investors interested in Africa's financial industry as well?
Yes, absolutely. Atlas Mara, for instance, is implementing a fascinating platform strategy, raising capital on the London Stock Exchange and using the money to buy African banks in order to build a strong supra-regional network. Business opportunities look good due to solid economic growth which has stimulated the demand for financial services in Africa. In a similar way, rising purchasing power has stimulated the retail industry. It makes sense to organise supermarkets and supply chains internationally. ShopRite from South Africa is doing that. In the retail business, it is essential to understand local preferences, and I have the impression that African companies are closer to consumers than global competitors.
And local preferences are driving demand for food and consumer goods from Africa too?
Yes, exactly. To give an example: we are financing and advising Kevian, a juice producer in Kenya. We have contributed to modernising its filling lines with up-to-date technology from Germany. In principle, tropical fruit juices can be exported to Europe. The trouble is that many German companies tend to ignore opportunities of this kind. Many of them still think of problems when they hear "Africa", and have neither noticed the continents dynamic development in recent years not the chances that result from it. On the other hand, the mere fact that we are cooperating with Kevian illustrates that there is a huge, unmet demand for financial services and advice, which, in turn, highlights the great relevance of the banking industry's expansion.
Let's take a look at telecommunications. Celtel was an early multinational from sub-Sahara Africa. Mo Ibrahim started it, proving that mobile telephony is viable and introducing this technology in many countries. The DEG was a shareholder right from the start. Do you regret that the company has been sold and now belongs to the Indian multinational bharti airtel?
No, we have no regrets. Celtel's history proves that Africa is attracting ever more big foreign investors, which is healthy. Moreover, the trend is good for customers. bharti airtel's sophisticated low-cost business model is excellent, so many people can afford its services. This is what matters for economic and social development. We want as many people as possible to benefit from progress. By starting Celtel, Mo Ibrahim made a great contribution to Africa's development, and we are proud to have supported him.
But doesn't Africa need strong corporate players of its own to drive development and contribute to defining global rules?
Yes, it does, but there are still strong African corporations in the telecom industry. One example is Safaricom from Kenya. This company introduced M-Pesa, the system that facilitates money transfers via mobile phones even for people who have no bank account. This innovation has a great impact on the entire African continent and must not be underestimated. Safaricom, moreover, shows that appropriate technology can lead to spectacular success.
Is there currently any entrepreneur of Mo Ibrahim's stature today?
Aliko Dangote from Nigeria is a most impressive entrepreneur. He started as a cement manufacturer and later expanded into other industries. His businesses are active in many African countries. He certainly has the potential to become relevant beyond Africa, but perhaps he has other priorities. He may well want to fully tap Africa's potential first.
Before becoming relevant internationally, a company needs to thrive in its domestic market, so domestic markets must be big enough. It is no coincidence that we are discussing companies with strong bases in countries like South Africa, Kenya and Nigeria. Many African countries are quite small however, and have only 10 to 20 million people. Has regional integration in supra-national organisations like ECOWAS, the East African Community (EAC) or the Southern African Development Community (SADC) advanced sufficiently to bridge the gaps?
Regional integration certainly helps, but much remains to be done. So far, the volume of inner-African trade is quite small. Inter-continental trade still has a greater impact on many economies. There is a lack of cross-border infrastructure and logistical options. For example, the capital cities of two neighbouring countries tend not to be linked by a motor way. The railway infrastructure is inadequate too. We do see progress however. Consider the modernisation of the Djibouti-Addis Ababa railway for instance, or the railway project that will link Kenya, Uganda, Rwanda and Burundi. Cross-border power grids must be built as well. To create big regional markets, it is not enough to discontinue tariffs.
Big regional markets, however, would contribute to letting African companies grow big enough to eventually play a role at the global level?
Yes, they would. Africa is a focus region for us as a development finance institution. We think it makes sense to promote African champions in specific industries, and we contribute to that cause by different means. We give companies long-term loans, we become shareholders, and we serve as consultants, for example on corporate governance. Many African companies do not live up to international standards yet. To improve matters, their management must assume responsibility. We are pleased to see that a growing number of African corporate leaders want to rise to challenges. They are the partners we need for effective cooperation, and we want to contribute to making their businesses succeed.
Josef Boven is an Africa expert at DEG (Deutsche Investitions- und Entwicklungsgesellschaft), the KfW subsidiary, that promotes the private sector in developing countries and emerging markets.
josef.boven@deginvest.de