Inequality
A tale of rich and poor
Wealthy 'Afrocapitalists' may grab headlines, but for most Africans even a middle-class lifestyle is out of reach.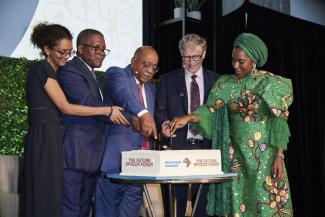 Loren Wohl/picture-alliance/AP Photo
In recent decades, most new jobs created in Africa have been in the informal sector, where incomes are low and precarious. In 2016, informal jobs accounted for 86 % of total employment and 72 % of non-agricultural employment in Africa, according to the International Labour Organization (ILO). The informal sector does offer workers only limited or more often no social protection.
Yet some African lifestyles are far beyond this daily grind. In recent years, Africa has seen a jump in the number of "high net-worth individuals" (HNWIs). These are persons with at least $ 1 million in investable assets, according to the consultancy Gapgemini which publishes the World Wealth Report. Its data show that the number of African HNWIs grew from 95,000 in 2008 to 177,000 in 2019. The "Afrocapitalists" enjoy lifestyles comparable to those of the rich in the Global North.
Just below the HNWIs in the income hierarchy is a relatively thin layer of technical and managerial experts who have benefited from education and profited from a sharp rise in foreign direct investment. FDI into Africa quadrupled between 1990 and 2017, creating a demand for expertise in a range of areas. An influx of funds from international private-capital organisations and official development-aid programmes has added to that demand for local expertise. The resulting jobs and incomes have supported growth of an African managerial elite and swelled the ranks of the upper middle classes.
Yet both categories – the super-rich and the well-to-do – are minorities. The lifestyles of US-dollar billionaires such as Nigerian industrialist Aliko Dangote and prosperous technical and business managers should not be taken as evidence of a rise of a broad-based middle classes. The relatively few success stories still stand in sharp contrast to the reality lived by the mass of Africans in the informal sector.

Link
Capgemini: World Wealth Report.
https://worldwealthreport.com/