Business
Technology start-ups on the rise
A street in the Tanzanian port city of Dar es Salaam is becoming a hotspot for burgeoning technology start-ups and businesses. Locally referred to as "Silicon Dar," the area is a four-kilometre stretch along Ali Hassan Mwinyi Road (New Bagamoyo Road). The area helps tech-based start-ups to access market for their products and services and meet potential investors.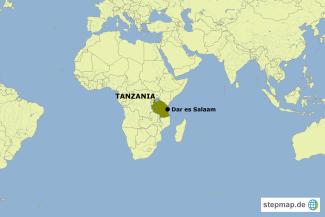 stepmap.de
In Tanzania, technology and ICT (information and communications technology) remain largely underdeveloped despite public and private sector efforts to boost them. Hassan Mshinda, a former Director General of Tanzania Commission for Science and Technology pitched the idea of establishing a technology park in the country. He believed that technology entrepreneurship would help unemployed young Tanzanians find jobs. He however failed in his ambitious plan.
Years down the road, a technology ecosystem has emerged organically in Dar es Salaam. "Silicon Dar" is a hub for academia, private and public sector investments in science, technology, and innovation. The College of ICT of University of Dar es Salaam has established an academic sector block along the street. Similarly, all major Telcom companies operating in Tanzania; Tigo, Vodacom, TTCL, Zanzibar Telecom (Zantel), Halotel and Airtel Tanzania are situated here.
Technology hubs and business incubators such as Buni Hub, Data Lab, DTBI and Sahara Ventures are also found in "Silicon Dar." Banking institutions, which offer much needed financing to SMEs (small and mid-sized enterprises) and start-ups have also started setting up shop.
Adam Mbyallu, the chief strategist at Sahara Ventures says that the rise of an innovation technology district has long been in the pipeline. "Just in 2011 there were two innovation hubs and one business incubator but as of now there are over a dozen innovation hubs along the stretch of the same road.
Habib Mrisho, the chief executive officer of e-Afya, a mobile platform that promotes access to sexual reproductive health information for visually impaired Tanzanians says: "So far there have been over ten beneficiaries of Silicon Dar. This concept needs to be supported, it has benefitted many young people who could not get employment in the formal job market, it is a viable alternative to the unemployment challenge among young people."
The Silicon Dar area also hosts public offices for state firms such as the Commission for Science and Technology Tanzania (COSTECH). COSTECH director-general, Amos Nungu sees Silicon Dar as a potential smart city in Tanzania. He pledges the support of his Commission to help the area continue growing into a start-up ecosystem for the country.
Despite the moniker (Silicon Dar), the area is nowhere near the standard of Silicon Valley in the US. However, rising unemployment among young graduates is pushing young people towards entrepreneurship and innovation, which could be the spark to grow start-up ecosystems like Silicon Dar.

Kilasa Mtambalike is freelance journalist, media and PR consultant in Dar es Salaam.
kmtambalike@yahoo.com