Municipal climate partnership
Renewable energy for Nicaragua
Since 1984, the German city of Bielefeld has been involved in municipal cooperation with Estelí, a town of 130,000 people in Nicaragua. Climate issues have increasingly marked this partnership in recent years. In an interview, Birgit Reher from Bielefeld's municipal environment office and Stefan Jankowiak
from the civil-society organisation Welthaus Bielefeld ("World House Bielefeld") told Hans Dembowski and Sabine Balk what local-level cooperation means in tangible terms. Interview with Birgit Reher and Stefan Jankowiak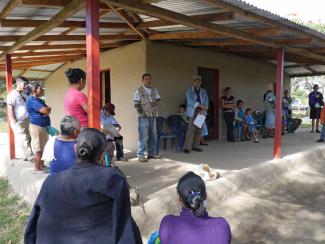 Stefan Jankowiak
What is the impact of climate change on Estelí?
Reher: There is more extreme weather than previously. The dry season is getting longer, and the rainy season is getting shorter, but heavy rains have become more frequent during it. The consequences include more flooding and soil erosion. Due to different rainy and dry seasons, vegetation periods are changing too, and harvests are being lost increasingly. Coffee cultivation, a major industry in the region, is affected. So is the cultivation of staple foods such as beans and maize, which, in turn, leads to higher prices as more food is imported.
Jankowiak: Another recent development is that the city's river, the Rio Estelí, only has water after heavy rains. Most of the year, it is dry. Even the national Environment Ministry in Managua has taken note. One of its divisions is dealing with the impacts of climate change. According to its forecasts, the amount of rain water will diminish by 30 % in the north of the country in the next 50 years. So far, average temperatures have risen by 0.89 C, and figure is expected to rise to 2.0 C by 2030.
 
What can municipal administrations do in view of global change?
Jankowiak: The challenges are really huge. Municipal administrations can only respond to climate change to a limited extent. Those who cause global warming live in industrialised countries and emerging markets. A town like Estelí can really only do something to adapt to the change. There are enhanced afforestation plans for the source region of the Rio Estelí, for instance, to ensure the source does not run dry. Moreover, water from deep wells will be used to irrigate tobacco fields in the future; this industry is expanding. The downside, however, is that ground water will be depleted to the detriment of smallholder farmers who cannot afford to invest in ever deeper wells.

What does Bielefeld do to support Estelí in regard to climate change?
Reher: We are running several projects in the context of our partnership. We are a kind of intermediary and make sure things get started. In cooperation with Welthaus, for instance, we have joined the German programme Fifty Municipal Climate Partnerships. The city's job is to involve various players from Bielefeld. For instance, the local polytechnic university is contributing to the project Renewable Energy for Estelí.
Jankowiak: Welthaus is currently implementing a renewables project with local partners in Estelí and funding from Germany's Federal Ministry for Economic Cooperation and Development (BMZ). Biohaus, a non-governmental organisation from Paderborn, is involved too. The goal is to use solar, wind and hydro power to electrify the biosphere conservation area Miraflor-Moropotente. The project will bring electric power to some 700 families. Schools, health centres and local co-operatives will benefit as well. We are keen on the participation of people at the grassroots level. We ask them: "What do you need?" In our eyes, this is an important pilot project that will help to kickstart public debate on renewable energy options. Nicaragua still does not have regulations that would allow people to feed renewable power into the grid, so people are not investing in any such facilities. On the other hand, the Nicaraguan government has defined some ambitious goals. By 2020, it wants all electricity to be generated on a renewable basis. There is some progress. A huge wind farm in the south of the country has a generating capacity of 120 megawatt which satisfies about 22 % of the national demand.
Reher: It is a pity that Europe's emissions trading scheme has collapsed. Earlier, it was possible to mobilise funds for projects such as this windfarm through the Clean Development Mechanism. That is no longer so because the prices for emission certificates have fallen so low. Too many carbon credits were handed out for free by the EU.

What is your presence in Estelí?
Jankowiak: We have a municipal-partnership office in Estelí. It is run by Welthaus. We are currently implementing the renewables project in Miraflor-Moropotente. After assessing peoples' electricity demand, we are now setting up the first photovoltaic installations.

Renewable power generation serves climate-change mitigation, not adaptation.
Jankowiak: Yes, indeed. But we are involved in adaptation measures too. For instance, we are working on plans to restore the natural environment of the Rio Estelí in the town. Unfortunately, we lack funding. Moreover, we are involved in research, tackling the question of how to modify beans and maize seeds so cultivation can continue in a more arid climate.

How did Hurricane Mitch, which devastated Nicaragua in 1998, change peoples' attitude?
Jankowiak: Nicaraguans know that their country is small and has only little influence in global affairs. They try to manage risks pragmatically. Back then, land slides killed a lot of people, so awareness has grown for the need to cultivate slopes in order to prevent such events.

Has the climate partnership changed Bielefeld in any way?
Reher: Well, experience made in Estelí contributes to raising awareness for the dangerous impacts of global warming in Bielefeld. To stop climate change, we, the rich world, have to reduce our energy consumption. Per head and year, Nicaraguans are responsible for about 0.8 tons of carbon emissions. Germans are responsible for ten tons. And there are virtual carbon emissions too. German companies have moved energy-intensive production facilities to developing countries and emerging markets, and the goods are later sold here. It obviously makes sense for developing countries to start out with renewable-energy infrastructure in the first place.

What do you do to make people notice your municipal partnership with Estelí?
Reher: One example is our Bielefeld Coffee. We have been sourcing it from UCA Miraflor, a farmers cooperative with 412 members based in Estelí. It is a fair-trade arrangement. The beans are shipped to Bielefeld. Processing and marketing are done here.

How did the partnership come about?
Jankowiak: In the late 1970s, when the revolutionary Sandinistas were gaining strength and later even prevailed in Nicaragua, a strong solidarity movement emerged in Bielefeld. It was political at heart, and Welthaus got in touch with partners in Estelí. In 1984, the City of Bielefeld became an official sponsor of Estelí, and the two cities have been formally twinned since 1995. Our partnership is quite lively. We are still supporting various projects in schools and nursery schools, as well as infrastructure projects. In recent years, however, the focus has increasingly shifted to climate-related matters.