Universal basic income
Social transfers stabilise aggregate demand
The Covid-19 crisis is a good opportunity to test models of a universal basic income (UBI). They can prevent poverty and stimulate recession-hit economies at the same time.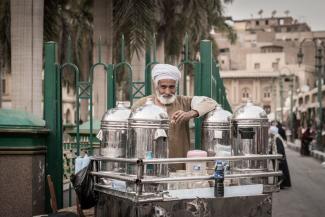 picture-alliance/Chloe Sharrock/Le Pictorium/MAXPPP/dpa
The current downturn is a result of the Covid-19 pandemic. Prosperous people are losing a share of their wealth and income. In contrast, poor people's livelihoods disappear when they lose their jobs or when their informal business activities become impossible. The current crisis threatens to erase in one fell swoop the progress made in long years of fighting poverty.
Hundreds of millions of people will drop below the poverty line again, and they are likely to stay below it for a long time. Many must take loans simply to survive, and they will struggle to repay the debt for a long time. People will sell land, livestock and other assets, destroying the livelihoods they relied on before the crisis. They will accept disastrous jobs in mining, chemicals production or prostitution, to the detriment of their health and their future productivity. They will take their kids out of school so they can earn some money now, undermining their future earning capacity.
It is, therefore, not only necessary to bail out enterprises in attempts to cushion the impacts of the coronavirus crisis. The poor must urgently get support too. Large social strata must not be plunged into poverty because the devastating impacts would include the erosion of purchasing power, more  malnutrition, undernutrition and even starvation and ultimately the destabilisation of societies and political systems.  
Wherever possible and as fast as possible, the poor should get social transfers. The transfers could go on for a while, or only be dispersed once. Either way, every household should get at least 6 months' worth of the respective national minimum wage. Should the crisis last longer, more money may be needed. 
At this point, there is no sensible alternative to a UBI, though government employees, who all over the world are likely to keep their jobs, can be excluded. Means testing would take too long, so it is impossible to only let the most vulnerable groups benefit from the transfers. And public works programmes are no alternative either because they tend to be discontinued during lockdowns. Making people apply for transfers in governments' welfare offices is the only way to reduce the number of applicants since prosperous families may shy away from queuing there.
A UBI would obviously be a big step into the unknown. Governments would have to be courageous to act this way. Several countries, however, are already taking action. They have extended social-transfer programmes or widened their out-reach (Egypt, Brazil, Indonesia and Columbia are examples). Others have created new programmes (as Argentina, Bolivia and Turkey did).
A UBI, moreover, would also stimulate domestic demand and rescue many small businesses. It would thus serve as a countermeasure against the downturn and a macro-economic stabiliser.
Low and middle income countries that now want to introduce a temporary UBI deserve generous support. Indeed, safeguarding the purchasing power of poorer nations would serve the interests of high-income countries by helping to mitigate the global recession and contributing to stabilising political systems around the world. By temporarily funding UBI models, European governments could prove that they are serious about the global common good and care about the welfare of people everywhere.
 
Markus Loewe is a senior researcher at the Bonn-based German development Institute (Deutsches Institut für Entwicklungspolitik).  
markus.loewe@die-gdi.de