Philanthropy
Nice try
The Mo Ibrahim Prize is meant to reward – and encourage – responsible leadership in African countries. It is a potential game changer, but it is at risk of losing relevance. A few changes might make it more effective.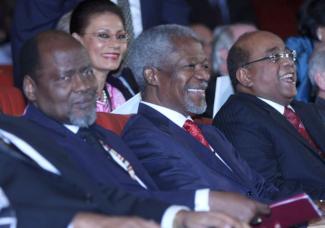 Nelson/picture-alliance/dpa
Mo Ibrahim is a British-Sudanese telecoms entrepreneur who introduced mobile telephony in several African countries. He later sold his company Celtel, which now belongs to the Indian multinational Airtel. His fortune is estimated to be worth between $ 1 billion and $ 2 billion.
With the goal of promoting better governance in Africa, the British-Sudanese entrepreneur established the Mo Ibrahim Prize for Achievement in African Leadership in 2006. It is designed to celebrate and encourage exemplary leadership and, perhaps, to assist in resetting the negative perceptions about African governance. It is an incentive designed to motivate African leaders to dutifully serve their nations by ensuring development in conditions of freedom and democracy.
An independent prize committee decides who gets the award. Its members are eminent global leaders, including the Nobel Peace laureates Martti Ahtisaari and Mohamed ElBaradei. Previous members include Kofi Annan, the former UN secretary-general, and Ngozi Okonjo-Iweala, Nigeria's former finance minister.  
The criteria for the award are simple but strict. The awardee must:
have been a former African executive head of state or government,
have left office in the last three years,
have been democratically elected,
have served his/her constitutionally mandated term, and
have demonstrated exceptional leadership.
Apparently, it is not easy to find worthy persons that fit the criteria. In the 11 years since its inception in 2006, the price has been awarded to five persons. The winners were Joaquim Chissano (Mozambique) and Nelson Mandela (South Africa) in 2007,  Festus Gontebanye Mogae (Botswana) in 2008, Pedro de-Verona Rodrigues Pires (Cape Verde) in 2011 and Hifikepunye Pohamba (Namibia) in 2014. In the years 2009, 2010, 2012, 2013 and 2015, 2016 and 2017 the prize committee did not select a winner.
Why is the award not a yearly affair? The most probable answer is that, in some years, no former African leader deserves the award. This answer would necessitate another question: must the criteria be interpreted so strictly? In any examination, even if all candidates perform poorly, some certainly perform better than others. Why not reward them? A 50 % failure to award the prize is quite disheartening.
Of course there are no rules about prizes that say they have to be given out every year. Indeed, the Nobel Peace Prize has skipped a number of years since its inception in 1901. Given that the monetary reward of the Mo Ibrahim Prize is huge, some observers believe that the costs are the reason it is only handed out so infrequently.
In comparison with the Nobel Peace Prize, the Mo Ibrahim Prize lacks global focus (it is Africa-focused) and name recognition. But one unique and/or significant feature about the latter is the value (in quantum terms) of the prize. The recipient of the Mo Ibrahim Prize is awarded $ 5 million in an initial payment that is spread over 10 years, with $ 200,000 every year after that for the rest of their life. The Nobel Prize has never gone beyond 8 million Swedish Kronor (a little less than $ 1 million) and a gold medal. By comparison therefore, the Nobel Prize is the biggest in the world, with a global focus, but the Mo Ibrahim Prize is the richest but with a limited focus – Africa.

An incentive for clean governance
The prospect of being granted such a fortune is meant to be an incentive for clean governance. It is a hint to leaders that they can become rich without using their public office for personal gains. It is also meant to help to change the perceptions of African leadership by showcasing exceptional role models. It promotes a culture of good governance, continuity and stability. In this sense, the significance of the prize does not necessarily lie with its winners but also with the conversation around leadership and good governance that it generates. Leaders could leave office peacefully and continue in other public roles, thus ending the cycles of vengeance politics and tendencies towards clinging to office at any price. The sad truth, however, is that destructive patterns of exploitative governance are deeply entrenched in Africa, and a randomly granted prize for exceptional good governance is not likely to make a big difference.
Another worry about the Mo Ibrahim Prize is its horizon. Is leadership found only in heads of state and government – and don't other political leaders need incentives to behave well too? The quality of governance concerns society as a whole and, while the top leaders certainly matter, they alone cannot change a country's culture. Members of cabinets and parliaments, municipal leaders and ordinary citizens have roles to play for governance to improve in Africa.
Finally, it must be insured the prize committee handles its job in a fair and appropriate manner. So far, it is not to be blamed. The Nobel Peace Prize however should serve as a warning example. Many observers see opportunism at work. For example, awarding the prize to US President Barack Obama early in his first term was considered inappropriate. The reputation of the Mo Ibrahim Prize must not be put at risk in a similar way.
Mo Ibrahim was most generous to establish the prize, and he deserves praise accordingly. However, the scheme should be reconsidered. If interest in it wanes, Africa will be the loser. To sustain its positive impact, two changes might help. First of all, it would make sense to award the prize every year, even if the prize money might have to be reduced. Second, the prize should become less elitist and consider all African citizens who make major contributions to improving governance. As an alternative, a similar prize might be instituted for them.
 
Vladimir Antwi-Danso is the dean and director of academic affairs at the Ghana Armed Forces Command & Staff College (GAFCSC) in Accra.
vladanso@yahoo.com