One Health
Holistic approach
Covid-19 is a zoonotic disease, which means it can be transferred from animals to humans and vice versa. Even before the pandemic started, specialists from the World Health Organization (WHO), the UN Food and Agriculture Organisation (FAO) and the World Organization for Animal Health (OIE) adopted a holistic approach to fighting zoonotic diseases. It is called "One Health", and the KfW development bank supports it. A recently published KfW policy paper spells out how.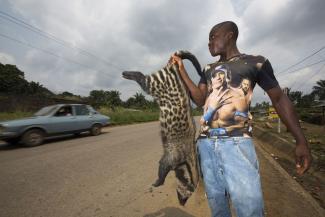 Cyril Ruoso/Lineair
Two thirds of human diseases are zoonotic. Apart from Covid-19, examples include Ebola, SARS or MERS. Evidently, human, animal and environmental health are closely interlinked. Experts warn that zoonotic diseases are likely to increase and may cause more pandemics.
The One Health strategy is their response to this danger. It does not merely focus on the prevention of infective diseases. The idea is to tackle the root causes and improve health comprehensively at a global level with an eye to humans, fauna and flora. Relevant measures are designed to cut across sectors, prevent crises and boost resilience. One Health is thus geared to sustainable development.
The KfW promises to support the approach by ensuring that operations serve the following purposes:
sustainable improvement of global health, including the reduction of social disparities in regard to access to medical treatment,
limiting the health impacts of the climate crisis,
protection of biodiversity including the conservation of soils, water and forests,
healthy nutrition,
promotion of safe drinking water and sanitation, and
promotion of global partnerships, including One Health networks.
The KfW is running a relevant project in Vietnam in cooperation with the World Wide Fund for Nature (WWF), the international non-governmental organisation. It is designed to protect the ecosystem in highlands along the border to Laos, where poaching is a serious problem. Wildlife is hunted to produce food, medicines and souvenirs, all of which are popular among urban people. These products are thus sold in shops, markets and restaurants. There is a serious risk of infections. The project the KfW supports serves to employ additional rangers so protected wilderness areas will be better monitored and poaching becomes more difficult. Increased patrols already have an impact, according to the KfW.
Pharma research is another important field of KfW activity. Vaccines, diagnostics and medications for new zoonotic diseases are needed. With various financing instruments, the development bank is supporting research as well as marketing. It is involved in the health funds GHIF and Adjuvant GHTF, for example, but also concludes partnerships for research and development purposes.
Sanitation and safe drinking water matter very much, moreover. In the DR Congo, the KfW is supporting efforts to beef up respective infrastructure in the public buildings of small towns. Such action also supports the One Health strategy

Link
KfW, 2020: One Health (only in German).
https://www.kfw-entwicklungsbank.de/PDF/Download-Center/Materialien/2020_Nr.11_One-Health_DE.pdf

Sabine Balk is member of the editorial team of D+C Development and Cooperation / E+Z Entwicklung und Zusammenarbeit.
euz.editor@dandc.eu