Sustainability
From free trade to fair trade
Exports and imports need to be governed by consistent rules in order to promote sustainable development in a responsible way. That is the verdict of Gerd Müller, German Federal Minister for Economic Cooperation and Development.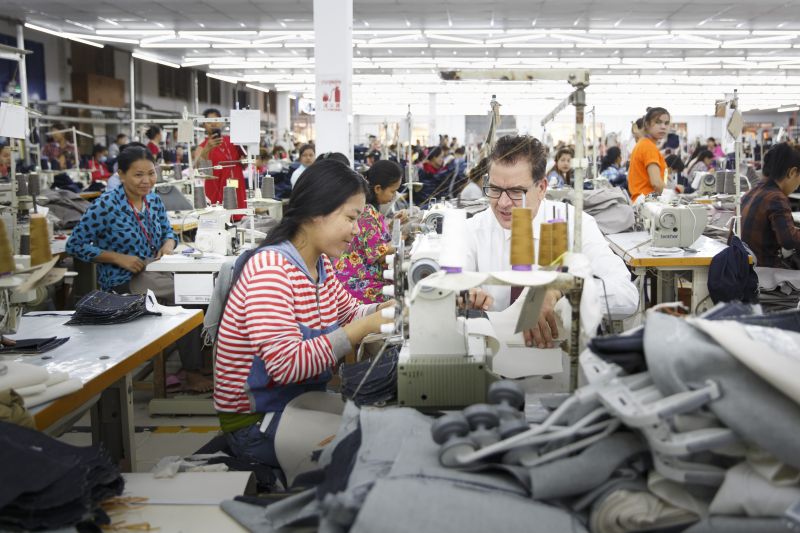 BMZ/Photothek
In April 2013, a devastating accident occurred at the Rana Plaza textile factory in Bangladesh leaving more than 1,100 people dead and over 3,000 injured. This tragedy once again drew attention to inhuman and environmentally destructive patterns of production in Asia and Africa.
Today, we can say that positive changes have taken place since then. In October 2014, we launched the Partnership for Sustainable Textiles. During a visit to Bangladesh last autumn, I was able to see for myself the progress that has been achieved on the ground. Thanks to German support, many survivors of the accident have been helped to find new ways to earn a living; with the training of labour inspectors, health and safety in textile factories is moving forward. And Germany is providing advice on the establishment of committees of workers' representatives and on the introduction of an occupational accident insurance scheme.
The textile sector is an example of how, in times of globalisation, increasingly complex supply and trade chains span the entire globe. Globalisation, the digital revolution and rapid population growth have transformed planet earth into a global village. Many separate companies in different countries are involved in producing and selling the products we consume in Germany and Europe. Men's shirts, for instance, go through up to 140 production stages in different countries before they end up on sale in our shops. For cost reasons, production is often transferred to countries with low levels of social and environmental standards.
Despite the challenges, we should not however forget that integration into global and regional value chains offers opportunities for developing countries and emerging economies. Thanks to its rapidly growing industrial production with a focus on export, China managed to lift more than 200 million people out of poverty between 2000 and 2013. Least developed countries (LDCs) and many African countries do not have this opportunity, because they are hardly integrated into the system of international division of labour and the global economy. The World Trade Organization estimates that LDCs account for 12 % of the world's population, yet their share in world trade is only one percent. Even Germany, a country with well-developed international linkages, acquires only three percent of its goods from Africa.

The pact on the world's future
We need to ensure that developing countries have better opportunities to participate in value creation and international trade. That way it is possible to counter poverty in a sustainable manner and create job opportunities. At the same time, global trade needs to be made responsible, sustainable and fair. Globalisation and trade must not be allowed to result in massive environmental degradation, climate change, greater inequality, precarious working conditions and human-rights violations.
We need to move towards a global economic model in the same way as Europe moved from 19th century Manchester Capitalism to its present economic model. The global pact on the world's future – the 2030 Agenda for Sustainable Development – with its 17 Sustainable Development Goals (SDGs) for economically, environmentally and socially sustainable development is the new framework for action, at the international level, in our partner countries and in Germany.

Responsibility for sustainable trade begins in Germany
The responsibility for sustainable trade begins in Germany, because German companies, in particular, play an important role in efforts to raise environmental and social standards and make global supply and value chains sustainable.
The best example here is the Partnership for Sustainable Textiles. It is a partnership between politics, business, trade unions and civil society and was established with a view to achieving sustainable improvements in social and environmental standards and in economic conditions along the entire textile supply chain. So far, some 180 members have joined, more than half of Germany's retail textile trade.
Another important step is the drafting of the National Action Plan for Business and Human Rights, through which the German government is implementing the UN Guiding Principles on Business and Human Rights. It lays out a clear framework for economic activity that complies with human rights, is socially sustainable and is also economically successful. In the first place, this framework is for companies, yet it applies to public authorities as well, who are there to help small and medium-sized companies especially carry out due diligence and to provide the required environment.
Consumption patterns are another key to more sustainability. We need to realise that our decisions as consumers have a direct effect in other parts of the world. If a t-shirt is sold for € 2.50 in Germany, it is clear that little will be left for the seamstress in Bangladesh. But there is hope. The increase in sales of fair-trade products is proof of a growing awareness of and an interest in sustainability issues. The German government has developed an online information platform to further support fair trade: www.siegelklarheit.de provides information on well-established sustainability labels and makes it clear which labels are especially credible and exacting. But national, regional and local authorities, who account for more than
€ 300 billion worth of procurement a year, also need to lead by example when it comes to sustainability. The BMZ has launched various initiatives to ensure that greater attention is given to social and environmental standards in all public procurement processes.
Fighting poverty and creating job opportunities and prospects for the people in developing countries will only succeed if companies in developing countries and their products and services are able to compete in global markets. Under the WTO's Aid for Trade initiative Germany has continuously expanded its trade promoting efforts. The BMZ is involved, for instance, in developing an economic enabling environment and competitive and sustainable economic structures, and in promoting cooperation with the private sector and the introduction of and compliance with environmental and social standards, for example in factories in Bangladesh.
At the international level it is important to look to the WTO as the forum for negotiating fair rules for world trade, as this is where every country has a voice. Even though the 2015 WTO Ministerial Meeting in Nairobi did not lead to the conclusion of the 2001 Doha round, it brought some progress for developing countries. Agricultural subsidies are being abolished and preferential rules of origin for goods from LDCs expanded. However, the fact that the Doha negotiations have stalled means that bilateral and plurilateral trade agreements are seen as more important. We need to take care that trade agreements outside of the WTO framework are not concluded at the expense of developing countries. For this we will also need to link environmental and social sustainability standards with international and European trade policy. That is why I am calling for sustainability standards to be mainstreamed in WTO rules, in EU free-trade agreements and in EU Economic Partnership Agreements with ACP countries.
Sustainable and fair trade begins at home, in Germany; it must be supported in developing countries, and it has to be formalised at the international level. We need to replace free trade with fair trade. That is the lesson that must be learned from Rana Plaza.

Gerd Müller is Germany's Federal Minister for Economic Cooperation and Development.
http://www.bmz.de