Fighting poverty
A world without hunger is possible
Germany's federal minister for economic cooperation and development calls for more determined COVID-19 response.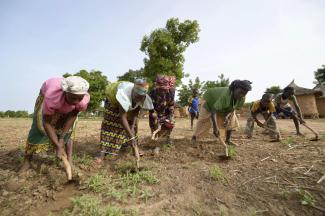 Florian Kopp/Lineair
We had been making good progress in the fight against global hunger: since 1990, we had been able to reduce the number of starving people by 200 million, even though there are now 2 billion more people living in the world. However, in the last few years the number of starving people has been rising again.
The COVID-19 pandemic is now exacerbating the situation quite dramatically. The lockdowns that have been ordered have caused delivery and supply chains to collapse. As a consequence of the pandemic, 130 million people are now slipping back into hunger and poverty.
COVID-19 has long become a poly-pandemic, a multiple crisis of unemployment, hunger and poverty. Experts calculate that more people will die from these consequences than from the virus itself.
That is why combating hunger is not just vital emergency assistance. It is also forward-looking peace policy. It is therefore irresponsible that food programmes are not being adequately financed. In Yemen, where one person out of every two is dependent on food aid, measures have had to be cut by 50 per cent. Yet it only costs 50 cents a day to feed a refugee child in Yemen or in Africa. If we fail to act now, then it will cost us much more later on.

What needs to to be done?
What we  need first of all are political solutions to the conflicts. Otherwise we will never conquer hunger. That can be clearly seen in studies carried out by organisations such as Welthungerhilfe.
We must quickly close the funding gaps of the UN relief agencies. Germany is one of the few countries that responded in 2020 to the burgeoning crisis, expanding its support efforts with a global Emergency COVID-19 Support Programme. But all governments need to do their bit. The same goes for the private sector, for companies that are doing especially well during the COVID-19 crisis. I am thinking here of big businesses like Amazon, Google, Facebook or Apple.
We must finally get away from the same old pattern of only responding when a crisis strikes; instead we need to invest more in preventing crises. This is, above all, a question of political will. Because, we have the know-how and the technologies to feed all of the people on this planet. That is why I am also saying: hunger is murder; because we could do something about it.
A world without hunger is absolutely possible. The latest research shows how it can be achieved: with a green agricultural revolution and additional annual investments by the industrialised countries of 14 billion dollars a year between now and 2030.
That is a lot but it is doable. Each year, the world spends 2,000 billion dollars on arms and defence. Together with many aid organisations I am therefore campaigning for this imbalance to be redressed.
We should focus the additional investments for a world without hunger on four priority areas:
First of all, farmers need secure land rights and loans so they can invest – and these rights and loans should be equally available to women and men.
Secondly: without energy there is no food. We have launched a programme called "energy self-sufficient villages", so that the upturn also reaches rural areas. This is because the fight against hunger will be decided in the fields. To win that battle we will need to make an even stronger push to roll out renewable energies, especially in Africa.
Thirdly, farmers need development which has their families as its starting point. For example, with cooperatives like the ones we developed in Germany 150 years ago. This means working together on planting, on buying supplies and on marketing.
And they need better seed and adapted farm machinery. Many African agribusinesses are only achieving a third of their potential output. One of the reasons is that four out of every five farmers are still working their land by hand. For them, even an ox-drawn plough is a luxury. With farm machines for small farmers and new seeds, agriculture would be able to make a huge leap forward. With this goal in mind, 15 green agricultural centres have been founded in Africa with German development cooperation funding. For example, in Burkina Faso we have planted a variety of rice from Asia and implemented new production methods; and within just a few years yields have tripled.
But knowledge alone is not enough. The political will, worldwide, to act is needed. The 2020 Nobel Peace Prize for the World Food Programme is therefore a wake-up call for all of us, telling us that: a world without hunger is possible. We just need to act with determination. Now.

Gerd Müller is Germany's federal minister for economic cooperation and development.   
www.bmz.de