Migration
Human trafficking on the rise
Illegal immigration is on the rise in many parts of the world, including Zambia. Trafficked persons face despicable conditions on their journeys and many end up dead or suffering life-threatening conditions.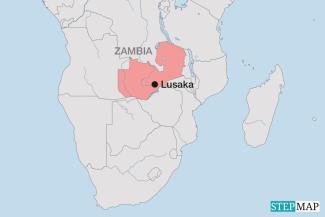 Stepmap
The media in the southern African country is not strange to news of arrests of foreign nationals for illegal entry or stay in the country. Authorities have also reported intercepting long-distance merchant trucks smuggling people in goods containers.
The Zambian police service recently found 27 dead bodies dumped by the roadside near the capital Lusaka. The victims are suspected to have been Ethiopian nationals who were being smuggled into the country. These are believed to have made their way through transit points in several African countries.
Zambia is a hotspot for human trafficking within Southern Africa, especially of migrants leaving Eastern African countries like Ethiopia, Somalia, the Democratic Republic of the Congo, Rwanda and many more, to seek job opportunities in the wealthier countries like Namibia and South Africa. The region has an agreement for free movement of people and goods through the regional cooperation body, Southern African Development Community (SADC), which makes it easy for human traffickers to sneak people across borders.
Human-trafficking cartels operating in Zambia have continued to exploit women and children from neighbouring countries into forced labour. Sex trafficking is also on the rise. Rwandan women have been targeted especially. They are lured into Zambia with promises that they will acquire refugee status and earn lucrative benefits. In the end, they become sex slaves who are kept against their will. Traffickers threaten to turn the illegal immigrants to immigration officials if they refuse to do what they are told.
With the rising human-trafficking cases, the local police has called for capacity building of officers both in Zambia and the Southern African region to effectively investigate and eradicate the vice. The country's immigration department also needs further support to deal with illegal immigration.
Alick Njavwa, a Lusaka resident, says: "Our immigration department is underfunded, understaffed and lacks necessary equipment. We need to improve it in so many areas. Back in the days, immigration issues were not as urgent hence practices such as spot checks and patrols were deemed not necessary."
There are fears that continued illegal immigration and human trafficking may threaten the free movement of people and goods in Africa. Activists therefore want the Zambian government to do more, such as securing the country's borders with modern technology.
Derrick Silimina is a freelance journalist based in Lusaka.
derricksilimina@gmail.com