Organic jeans
Slow fashion
Jeans production is known to severely harm the environment and the health of factory workers. Some brands are improving production methods and labour conditions. Eva-Maria Verfürth talked to Monique Voorneman of the Dutch brand Kuyichi, a pioneer in organic jeans production.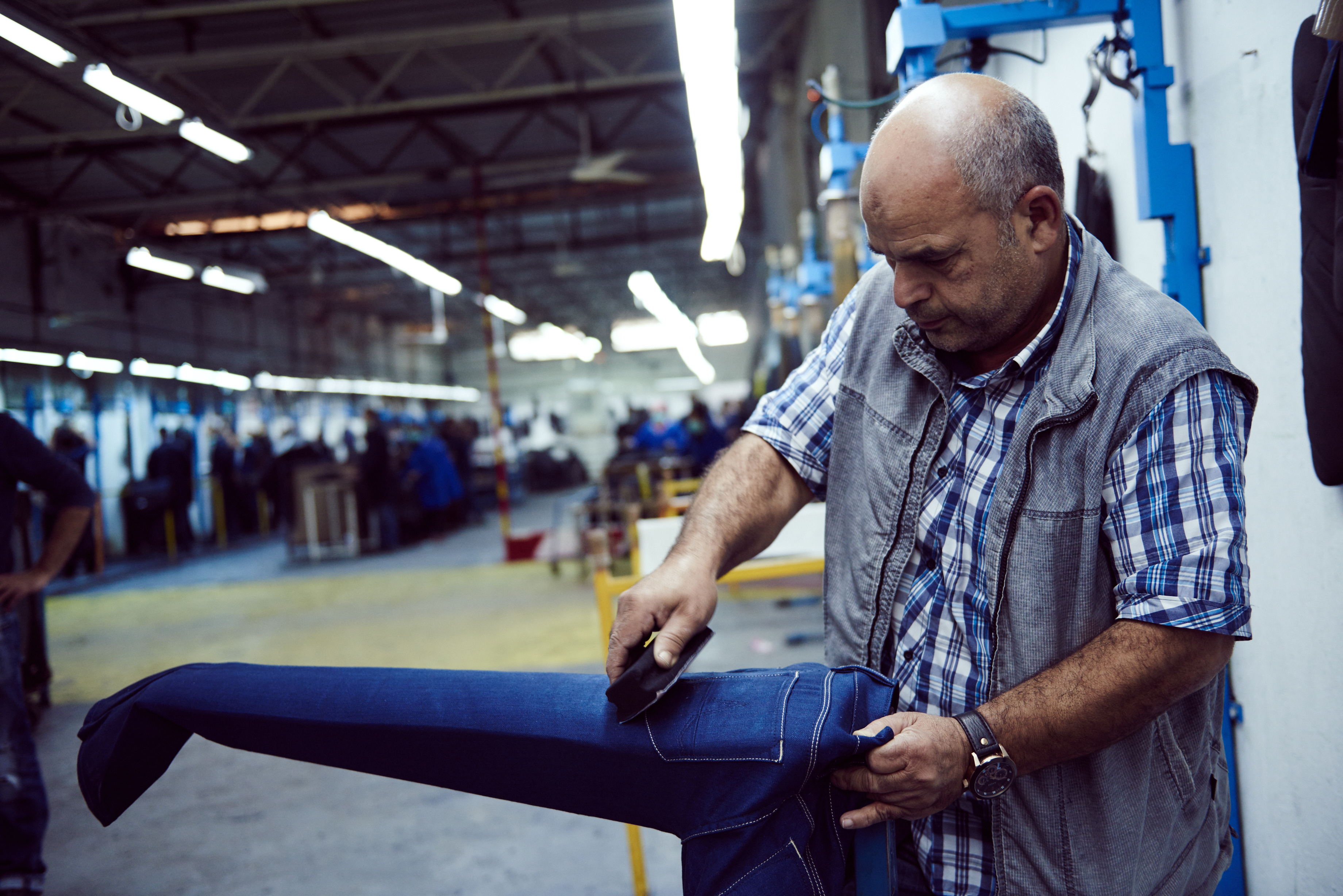 Kuyichi
When Kuyichi started in 2001, it was the first brand to sell fair and ecologically produced jeans. What was the motive?
Kuyichi was founded by the non-governmental organisation (NGO) Solidaridad, which wanted to introduce organic cotton in the clothing industry. Earlier, the NGO had focussed on fairtrade organic coffee and fruits, and it was known that the cotton industry caused a lot of problems. At the time, brands like Patagonia had started to use organic cotton for outdoor clothing, but the fashion industry hardly used organic cotton at all. Solidaridad tried to convince big players in the denim industry of organic cotton, but they were not interested. So Solidaridad started a new fashion brand to improve matters in developing countries both in regard to the natural environment and the labour situation.

Organic jeans production is known to be especially challenging. Why did the brand not start with T-shirts?
Kuyichi wanted an entire collection. If you only sell T-shirts, you do not have a brand.

In what sense are Kuyichi jeans cleaner than others?
There are numerous certification and accreditation systems for organic clothing at national and international levels. Some of them indicate what share of the fibres was grown organically; others indicate that the fabric was made in an eco-friendly way. Most of our denim fabrics are GOTS certified. The acronym stands for Global Organic Content Standard. GOTS covers both aspects. The standard is meant to protect the environment and all workers, from the fields to the factories. Obviously, GOTS also serves consumer health. Fabrics that comply with GOTS have at least 95 % organic content and are treated with certified dye stuff.

Do you rely on other standards too?
Yes, some Kuyichi jeans comply with the Organic Content Standard 100, which also requires a minimum of 95 % organic material. A small part of our collection contains recycled cotton or recycled polyester; for these garments we use OCS Blended and Global Recycle Standard certification. Our particular strength is that we almost only use certified organic cotton and other sustainably produced materials in our collection.

Kuyichi also aspires to improve work con­ditions. How do you define fair conditions?
We appreciate the work done by the Fair Wear Foundation (FWF), an independent, non-profit organisation dedicated to improving labour conditions for garment workers around the world. We have pledged to live up to the eight labour standards of the FWF's Code of Labour Practices – or CoLP for short:
freely chosen employment,
freedom of association and the right to collective bargaining,
no discrimination in employment,
no child labour,
payment of a living wage,
reasonable working hours,     
safe and healthy working conditions and
legally binding employment contracts.

What is a "living wage"?
The FWF defines it as a wage that not only meets the basic needs of workers and their families, but also provides some discretionary income. Basic needs include housing – including electricity –, food, drinking water, clothing, health care, education, child care, transport and even some savings. The living wage varies per country. The FWF determines the exact numbers based on years of research and development.

Does your sustainability strategy include shipping?
Yes, we try to avoid air transport. For example, we use trucks and ships to transport fabrics from the spinning and weaving mills in Turkey to the garment factories in Turkey and Tunisia. Moreover, we measure our headquarter's carbon emissions and do our best o reduce them. Finally, we compensate for remaining emissions by investing in sustainable energy projects and emission reductions in other places.

The supply chain is long. It starts on cotton farms and passes through several processing stages. Where are your jeans produced?
Like most denim brands, Kuyichi does not have its own fabric mills or sewing factories. Instead, we rely on suppliers who are responsible for their part of the production process. Our organic cotton is grown in Turkey and Kyrgizstan. The fabrics are made in Turkey and Italy. The stitching is done in Turkey and Tunisia, and so is the laundering. Zippers, fasteners, buttons and rivets come from Germany; labels from Italy. You'll find detailed information on our website.

How do you make sure that all suppliers stick to your social and ecological requirements?
We carefully choose and monitor all suppliers, taking into account various criteria, including environmental aspects, working conditions and product quality. We visit factories regularly and establish long-term relationships with suppliers. Moreover, the FWF reports on Kuyichi's performance, assesses our progress and indicates what should improve further. FWF audit teams check the factories where our jeans are produced, ensuring that the CoLP is implemented and fostering cooperation between stakeholders.

Do your suppliers work exclusively for Kuyichi, or other clients too?
All suppliers work for other clients too. The percentage of production for Kuyichi ranges from less than one percent to about 50 %.

Do you sometimes have to deal with problems of suppliers' reliability or the quality of their work?
Yes, unfortunately we had a quality issue with a jeans supplier in 2012. We had to make an extra effort to get the quality which people expect from our brand. Today, we are on track with all suppliers once more. It is necessary to learn from mistakes. We're on a journey, a step-by-step process to meet ever more sustainability criteria. The first step towards solving any problem is to acknowledge the reality you're in. We strive to solve problems in a creative way in cooperation with our suppliers. On the other hand, it makes sense to rely on the support of independent experts, for instance from textile laboratories.

When producing jeans, is it possible to rely entirely on environment-friendly components and processing?
Organic cotton has a much lower carbon footprint than conventional cotton. There is much less water pollution too. However, organic cotton production does require a lot of water, and the wet processing of jeans – including pre-treatment, dyeing, printing and finishing – involves certain chemicals. It also requires a lot of water and energy.

What is Kuyichi doing about it? Do you sell bleached jeans?
Luckily, sustainable alternatives are being developed. We are constantly working on improving our processes in regard to denim shading, abrasion and 3D-effects on jeans for example. We do not do sandblasting or abrasive blasting in the finishing process, but there are numerous steps that can be taken. We are getting better.

Given that you make extra efforts, why are your jeans not more expensive than those of the large clothing companies that do not make those efforts?
Our profit margins are low, and we opt for creative, low-cost marketing instead of expensive advertising.

Even without expensive advertising, Kuyichi has been featured in many of Europe's most influential fashion and lifestyle magazines, among them Vogue and ELLE. How was that possible?
Our true story seems to be great content for the magazines. But our aim is to reach a broad number of people, not only influencers or fashion magazines.

Kuyichi jeans are sold in stores as well as online. Which channel is more important?
Both channels are important; both have upsides and downsides. We do not consider online and offline as two separate worlds however. For example, our new webshop allows consumers to check where the products are made, how they are made and by whom. Such knowledge may also interest consumers who buy Kuyichi products in a store – or retailers who want to provide their customers with more detailed information.
Where do you sell most?
Our biggest markets are currently the Netherlands and Germany.

Is the market for organic jeans growing?
In our experience, the demand for organic jeans is rising slowly. However, organic fabric is not consumers' top priority. When they are looking for a new pair of jeans, they are interested in criteria such as colour, price and models. Usually, the fit and comfort are what determines their choice. For a niche group of consumers, sustainability is a criterion too, and so are labour conditions.

Who are your main competitors – the big global brands or other organic brands?
Kuyichi has many competitors, including the big global jeans brands, as well as a few sustainable denim brands. Our competitors sell jeans in a similar price and quality range in the same stores.

Fashion trends change fast in Europe. It feels as if people were switching styles every half a year. How do you deal with this challenge?
Kuyichi does not believe in fast fashion. All our clothes are designed to last: they are made of high quality fabrics with a timeless appearance. Slow fashion encourages an approach of systems thinking, recognising that our collective choices have impacts on people and the natural environment.

Do manufacturers bear most responsibility for making the global economy fair, or do the consumers do so?
Everyone has a responsibility and must live up to it. Fashion brands play a very important role, as they determine the usage of materials, location of production, and what prices the factories get for their products. Transparency is also the responsibility of brands. But in the end the consumers decide what they buy. To really change the industry, all parties involved have to do quite a bit. For example, governments in developing countries should raise minimum wages and strictly enforce labour laws to protect the workforce. Factories need to do a better job to protect workers and pay a living wage. Consumers should prefer quality over quantity. And when they go shopping, they should look for certified organic labels and ask shopkeepers about labour relations.

Critics often argue that fairtrade will ultimately remain a niche market with little bearing on the world economy. What impact can Kuyichi have on the global textile market?
We would like to inspire others with our sustainable knowledge to do the same or even better. Kuyichi was the first to introduce organic cotton jeans, and now some other brands also source organic cotton for their collections. We're happy to see that we raised the bar for many companies around us and hope to inspire many more.
Monique Voorneman is the head of commu­nications at Kuyichi.
monique@kuyichi.com