Refugees
Not in my backyard
Refugees from surrounding countries are giving local businesses in Malawi a run for their money. Many Malawian customers seem to prefer doing business with refugees than with their own countrymen.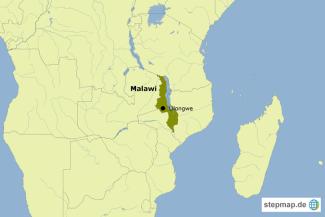 stepmap.de
"You can negotiate with a Burundian and get what you want at a better price, and they have good business etiquette," says Mark Phiri, a resident of Malawi's capital Lilongwe. "Refugees know what customer care is all about. Most Malawian business owners, on the other hand, find it hard to negotiate and have no knowledge of marketing. So the refugees' businesses are thriving."
Apparently the refugee-owned businesses are thriving too much to suit Malawian businesses and government officials. In April, Minister of Homeland Security Richard Chimwendo Banda told all refugees living in cities and villages they have 14 days to return to the Dzaleka refugee camp, about 40 km outside of Lilongwe.
"Those who are doing business should do so at the camp and not in communities where locals live," Chimwendo Banda said. He added that staying at the camp is better than being sent back to their countries of origin, which the government decided against.
The ruling affects thousands of refugees, many of whom are long-term residents of Malawi. However, Malawi's high court has stopped the relocation order pending a judicial review. Meanwhile, human-rights organisations and the UN Refugee Agency UNHCR have asked the government to reconsider.
Some residents and former residents of the Dzaleka camp say that living conditions there are difficult. The camp was designed to house up to 14,000 refugees but is now home to more than 49,000. Several hundred new residents arrive each month from other countries, including Burundi, Rwanda, the Democratic Republic of the Congo, Ethiopia and Somalia.
Because of the crowding, an estimated 2,000 refugees have left the camp over the years to live elsewhere in Malawi. Most of them opened small business such as retail food stores, clothes shops, beauty salons and restaurants.
The Dzaleka Refugee camp cannot accommodate all those who have left, says a refugee who runs a small business in Lilongwe and who asked for anonymity. "The camp is too congested," he said. "Even if we go there, where will we be accommodated? I wish the government had given us another camp that has space for all of us."
Kanamula John, a representative of Rwandan refugees at the camp, said in an interview with AfricaNews that the order will disrupt many lives. "Some of us have married Malawis and we don't know what will happen to our children," he said. Minister Chimwendo Banda responded that refugees with Malawian spouses should apply for permanent residence. He added that the order was issued for security reasons, to protect both refugees and Malawians.
However, many refugees and some Malawians feel that security is not the issue. They speculate that the order stems from complaints from Malawian business owners about competition from refugees. This is not the first time that such objections have surfaced. In 2007, complaints appeared in the press about traders from China, Tanzania, Pakistan, India and Nigeria opening businesses without obtaining the necessary licenses. Ken Lipenga, the commerce minister at the time, reportedly vowed the government would "flush out illegal foreigners" who were causing a big problem.

Raphael Mweninguwe is a freelance journalist based in Malawi.
raphael.mweninguwe@hotmail.com
Normal 0 21 false false false EN-US X-NONE X-NONE /* Style Definitions */ table.MsoNormalTable {mso-style-name:"Normale Tabelle"; mso-tstyle-rowband-size:0; mso-tstyle-colband-size:0; mso-style-noshow:yes; mso-style-priority:99; mso-style-parent:""; mso-padding-alt:0cm 5.4pt 0cm 5.4pt; mso-para-margin-top:0cm; mso-para-margin-right:0cm; mso-para-margin-bottom:8.0pt; mso-para-margin-left:0cm; line-height:107%; mso-pagination:widow-orphan; font-size:11.0pt; font-family:"Calibri",sans-serif; mso-ascii-font-family:Calibri; mso-ascii-theme-font:minor-latin; mso-hansi-font-family:Calibri; mso-hansi-theme-font:minor-latin; mso-bidi-font-family:"Times New Roman"; mso-bidi-theme-font:minor-bidi; mso-ansi-language:EN-US; mso-fareast-language:EN-US;}