Women's empowerment
Double burden of household work and earning money
Because they have to fulfil their traditional role within the family, women are severely disadvantaged in Nigeria's labour force. The road to full empowerment is still long.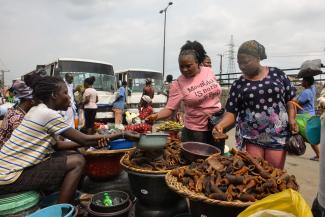 Olukayode Jaiyeola/picture-alliance/NurPhoto
In Nigeria, most women who have dependent children must work to boost their families' income. But this does not relieve them from the burdens of domestic duties. These women struggle to juggle household chores and paid work, especially when husbands are not supportive.
Adesola Olaniyi is an example. She is a mother of three and works at a bank on Lagos Island. She has to get up very early to make it to work by 7:30 am, as she lives downtown, Lagos. As a manager, she cannot afford to be late. Each morning at 4 am, she prepares both breakfast and lunch for her family and gets the children ready for school. In order to beat Lagos' traffic, she leaves home by 5:30 am. Her husband, who works closer to their home, is still asleep.
The bank closes to customers at 4 pm, but Adesola usually works until 6 pm. Due to rush hour, she sometimes does not get home until after 8 pm. However, her day is not over when she arrives. Her duties include monitoring what the children are doing in school – and whether they have done their homework properly. At times, she brings some of her work home and stays up late. Her life is a rat race, but she has no choice. Her job is essential as her husband's income cannot sustain the family.
Catherine Nwachukwu lives a similarly stressful life. She is a mother of five and works as a caterer in the informal sector. She never had an employment opportunity in the formal sector, where jobs are safer and the pay is better. Her husband is an unemployed artisan who had to shut down his workshop because of poor electric-power supply.
Catherine keeps the family afloat while also caring for the children and doing household chores. Her job usually takes her out of the house for two days. If she does not earn money, her children will not have anything to eat. Sometimes, she even has to leave Lagos state. Her husband stays with the children on such occasions, but when she returns, she still has to cook for the familiy and clean the house.
Many women work two or three jobs to provide for their families. Ayinke, for instance, is a primary school teacher and has four children. She also runs a local shop where she sells various consumer items after school and on the weekends. Her husband abandoned the family, and teacher's salary does not cover all expenses. Inflation is eroding purchasing power in a country that has suffered two recessions in the past five years.
Gender stereotypes
As in many other African countries, women in Nigeria have a subordinate role to their male counterparts. Twice as many women as men live below the poverty line, according to official statistics. Moreover, men occupy 19 times more executive positions than women. It matters very much that women have a host of family duties so they cannot conform to enterprise cultures that require "anytime, anywhere" availability.
Many workers in Nigeria's informal economy are women. According to the International Labour Organization (ILO), that is typical of emerging markets and developing countries. These lack social safety nets, labour laws and decent working conditions. Things are particularly bad for the owners of small businesses.
The Covid-19 pandemic has hit the informal sector particularly hard and exacerbated pre-existing problems. According to the ILO, 83 % of workers in this sector were significantly affected by lockdown measures. The situation is especially dire in the informal hospitality industry, in which women vastly outnumber men.
But no matter which sector they are employed in, coronavirus has rendered many Nigerian women vulnerable. Many jobs were lost when formal-sector companies went bankrupt. A large number of surviving businesses are still operating below capacity, so most workers are yet to be recalled.
Changing the narrative
Some argue that women must change the public's perception of themselves. Adenike Ogunlesi is one of them. She founded the Network of Entrepreneurial Women (NNEW), which is part of Nigeria Employer's Consultative Association (NECA). "We will get what we want," she argues, by speaking up with determination and clarity.
Oyinkansola Olasanoye agrees. She is immediate past chair for the Women's Commission of the Trade Union Congress of Nigeria. She emphasises that the public is wrong to believe that women are incapable of reasonable action. In her eyes, issues such as female unemployment, violence against women, sexualised violence against girls and maternal mortality require urgent attention. Men, she says, must support women in financial and political terms.
Financial services
There is some progress, however. For example, financial-sector institutions have begun to improve their outreach to women. The Central Bank of Nigeria is leading the field. It has committed 220 billion naira (the equivalent of € 0,46 billion) to its Micro, Small and Medium Enterprises Development Fund, reserving 60 % of this sum for women. Commercial banks like Fidelity Bank and Sterling Banks are following this example. Important institutions are thus heeding international advice on women's financial empowerment (see interview with Jen Braswell in Magazine section of D+C/E+Z e-Paper 2021/10).
Nonetheless, many women entrepreneurs still have ample reason to feel marginalised and excluded. Blessing Irabor, who heads the Nigerian chapter of the Organization of Women in International Trade, points out that financial literacy tends to be low among women, while banks apply stringent eligibility criteria for lending purposes. The full truth is that informal businesses in particular lack access to the capital that would help them become more productive. In many cases, women suffer the consequences.

Bimbola Oyesola is a Lagos-based journalist.
oritokeoyee@gmail.com