German development cooperation
Displacement in Africa
Migration and displacement in Africa pose almost impossible tasks for the communities of low-income and unstable countries. GIZ supports states in these efforts through numerous projects.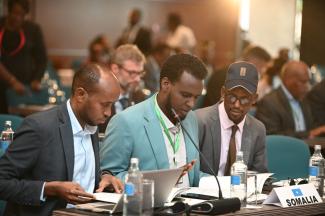 IGAD/AD Media
In the horn of Africa, GIZ – ­financed by Germany's Federal Ministry for Economic Cooperation and Development – has advised the Intergovernmental Authority on Development (IGAD) since 2017 on how to improve implementation of regional displacement and migration policies. The IGAD member states of Ethiopia, Djibouti, Kenya, Somalia, Sudan, South Sudan and Uganda – Eritrea's membership is currently suspended – are facing numerous challenges. Fragile statehood, internal and cross-border conflicts and increasingly severe impacts from the climate crisis are factors that are contributing to migration and displacement within and out of the region.
The countries are typically countries of origin, transit zones and destinations all at the same time. In 2021, East Africa hosted over 4.1 million refugees and around 11 million internally displaced people. GIZ helps IGAD offer lasting solutions to migrants and refugees and implement regional policy goals in relation to migration and displacement.
Additionally, GIZ works with IGAD to strengthen the capacities of local governments in border areas within the region in order to improve basic services for migrants, refugees and host communities. More generally, GIZ's project should help member states to better learn from experience as well as to harmonise regional migration data in an effort to base policy decisions more firmly on facts.
Overwhelmed communities in Mali
In Mali, with financing from the BMZ and Canada's foreign ministry, GIZ is strengthening the socio-economic participation of internally displaced people, refugees and vulnerable local people in host communities in the regions of Kayes, Ségou, Mopti, Gao and the greater Bamako area.
Violent extremism, assaults and organised crime have increased here in recent years. Together with growing ethnic conflicts, these situations are leading to more internal displacement and therefore to major challenges for the communities that take in the people. There is also a flow of refugees from neighbouring countries into Mali.
Conflicts over food and water resources are increasing accordingly. Humanitarian aid can only act selectively here and does not offer long-term solutions. Another problem is the low rate of employment among internally displaced people and refugees. What's more, these people are often suffering from the physical and psychological consequences of the violence and displacement they have experienced. The situation is even more precarious for women and girls due to pre-existing inequalities and discrimination.
State structures are not capable of appropriately meeting these manifold challenges and promoting social cohesion. For that reason, the GIZ project in Mali focuses on the following three areas:
professional and social education,
cooperation with the private sector and
strengthening social cohesion and municipal development.
The approach rests on building individual and organisational capacities and strengthening cooperation and networking structures. In implementing it, the project is working with organisations like the UN Refugee Agency (­UNHCR), the International Organisation for Migration (IOM) as well as regional authorities and other decentralised services.
Stephanie Deubler works for GIZ in Eschborn. She is a senior specialist planner on the topic of migration and displacement in GIZ's sectoral department.
stephanie.deubler@giz.de
Astrid Peter works for GIZ in Eschborn. She is a senior specialist planner on the topic of migration and displacement in GIZ's sectoral department.
astrid.peter@giz.de