Healthcare
Health education for communities in Nepal
More education on health issues is needed in Nepal, especially for women and girls. Local health centres and Female Community Health Volunteers play a crucial role.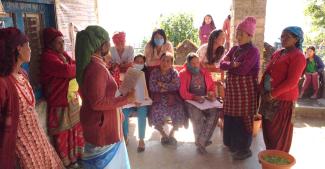 Childaid Network
Nepal, like many other developing countries, faces significant health challenges. Mothers and their children are particularly affected, especially in rural areas with limited access to health care and resources. Women still face numerous obstacles when it comes to family planning, safe motherhood, childcare, nutrition and menstrual hygiene practices.
The greatest risks for mothers and children include:
lack of medical knowledge and awareness,
limited availability of medical professionals and facilities as well as
difficulties in accessing health care due to transportation limitations.
Nepal has a high maternal mortality rate, standing at 151 deaths per 100,000 live births in 2021. Approximately five percent of all deaths among women of reproductive age are due to maternal causes (Nepal Ministry of Health and Population 2023). This alarming situation calls for immediate attention and action to address the root causes and improve the overall health outcomes for women and their children.
The Nepalese government has taken steps to reduce health-care disparities and enhance accessibility for vulnerable populations, particularly those in rural areas. Various initiatives have been implemented, such as standard treatment protocols (STPs), free health-care programmes and incentive schemes promoting safe health-care prac­tices. However, addressing Nepal's chal­lenges requires going beyond such initiatives.
Strengthening local actors
It is important to address the core issues affecting health-care accessibility by effectively utilising existing resources and structures. One key area that needs attention is the enhancement of local health posts and the effectiveness of their staff. In Nepal, a country of about 30 million people, over 5000 health facilities spread across the country. They play a crucial role in providing primary health-care services to communities and can potentially provide comprehensive care for almost all citizens.
However, these facilities often lack adequate resources and trained staff to deliver high-quality care, so upgrading and targeted trainings are needed. Moreover, mentorship and monitoring of these health facilities by all 753 local governments of Nepal is necessary to ensure the delivery of high-quality services.
Local governments should also collaborate with schools and health facilities to conduct health awareness campaigns specifically targeted at adolescent girls. By focusing on this vulnerable group, we can empower them with knowledge and awareness of their reproductive health, menstrual hygiene and other essential health practices. This initiative not only benefits adolescent girls but also contributes to the overall health and well-being for students of public schools in the country, as well as their communities.
Dedicated health volunteers
Another critical component of Nepal's health-care system is the Female Community Health Volunteers (FCHVs). These dedicated individuals, numbering more than 50,000 nationwide, play a vital role in:
providing essential health education,
supporting mothers and families,
registrating pregnant and postpartum women and
distributing medications and contraceptives within their communities.
Their tireless efforts have contributed to a significant reduction in maternal mortality rates over the years.
However, to effectively fulfil their role, FCHVs require specific training and capacity-building programmes addressing various health issues. Collaborative efforts between FCHVs and health posts can improve community health. They can, for example, increase awareness, empower marginalised groups to seek support and promote children's health through school-based interventions like regular health screenings.This comprehensive approach ensures that health promotion and preventive measures are instilled at an early age, leading to healthier communities in the future.
Linking existing initiatives
Strong coordination between FCHVs and other stakeholders is crucial for the success of these initiatives. Engaging local governments, community leaders and civil-society organisations like Childaid (see box) in collaborative efforts will amplify the impact and sustainability of these interventions.
Addressing Nepal's health-care challenges requires a holistic and multi-faceted approach. By effectively utilising existing resources and structures and focusing on primary health care at the grassroots level, we can make significant progress in improving the health outcomes for mothers and children, especially in rural areas. Strengthening local health posts, enhancing the role of Female Community Health Volunteers and promoting collaboration among stakeholders will pave the way for a healthier and thriving Nepal.
Link
Nepal Ministry of Health and Population, 2023: National population and housing census 2021 – a report on maternal mortality. 
https://mohp.gov.np/uploads/Resources/Nepal%20Maternal%20Mortality%20Report%202021.pdf
Sattish Chandra Aryal is Monitoring and Evaluation Officer at Childaid Network Foundation, Nepal.
sattish.aryal@childaid.net

Childaid Network Foundation
Childaid Network Foundation is a non-profit foundation based in Germany that currently gives needy children and young persons access to education, training and health facilities in four countries in South Asia (India, Nepal, Bangladesh and Myanmar). 
In 2022, over 150,000 children and young persons and around 2000 teachers and multipliers were directly supported for the first time in around 50 education and child-protection projects at over 1000 project locations. The organisation is funded by public grants, private donations, funding partners and companies.
In Nepal, Childaid is working in the field of education, school and community-based health and vocational training. It is currently operating in the districts of Ramechhap, Dolakha and Sindhuli east of Kathmandu. 
In partnership with Childaid, Green Tara Nepal, a national NGO, is collabo­rating with local stakeholders, civil society and schools to implement community and school health projects. SCA