Culture Special
American joy and sorrow
Two families in New York at the time of the financial crisis: one white, privileged and rich, the other black without secure residence status. Their fate forms the subject of the novel "Behold the Dreamers" by Imbolo Mbue. Both families are almost destroyed by the cliché of the American dream. This item is the third in this year's culture special with reviews of artists' works with developmental relevance.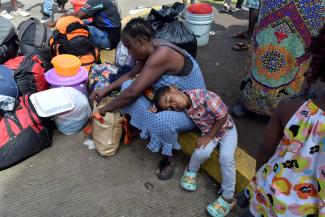 picture alliance / REUTERS | JOSE TORRES
Jende Jonga came to the US from Cameroon as an asylum seeker and is hoping to obtain a residence permit. While American authorities review his application for asylum, he is able to bring his wife and son over from Cameroon. In a particular stroke of luck, his cousin helps him get a well-paying job as a chauffeur for a wealthy banker at Lehman Brothers. Jende seems to have arrived in the country of his dreams.
While Jende's employer Clark Edwards and his family recreate the dream of American success, Jende and his family experience the typical lot of an immigrant family: they live in a small, shabby apartment in Harlem, New York's historically Black neighbourhood, and work every day until late at night. But Jende and his wife Neni firmly believe in the American dream that through hard work, anything can be achieved. And Neni has big plans in America. She wants to become a pharmacist. Every minute that she is not working or taking care of the household she is studying for college, hoping that her degree will gain her admission to pharmacy school. Even at night she hardly lets herself sleep.
The Jongas admire the Edwards' wealth and lifestyle, which is so different from their own. The Edwards live in a large mansion with servants and the wife, Cindy, can buy everything she can dream of. Neni is also able to work there as a housekeeper occasionally. In time, the Jongas recognise that the lives of their rich employers are not as perfect as they seem. Clark Edwards works around the clock and enjoys the company of prostitutes in hotels for hours on end, while Cindy is depressed and prone to abusing alcohol and drugs.
Then the crash comes. When Lehman Brothers goes broke and triggers a global banking crisis, the American dream comes to an abrupt end for both families. Clark loses his position and fires Jende, who now struggles to support his family with poorly paid temporary jobs. The authorities then deny his application for asylum. As deportation looms, he suffers a physical and psychological breakdown. He resolves to return to Cameroon.
Neni is completely opposed to this idea and their marriage is almost torn apart. After an excruciating process, Neni finally concedes, as she believes a good Cameroonian wife should. The book does not close with a hopeless, destructive ending – quite the opposite. Both families are able to find hope in the crisis. Clark Edwards recognises how valuable time with his family is, and Jende and Neni look forward to a pleasant life in Cameroon. With the thousands of dollars they have saved, they are wealthy by Cameroonian standards, and hope to acquire a large house and send their children to a good school.
The author, who was born in Cameroon in 1982, put much of her own biography into her debut novel, for which she won the prestigious PEN/Faulkner Award in 2017. At the age of 17, she herself came from Cameroon to the US, where relatives financed her education. She graduated from Columbia University in New York and subsequently worked in market research for a media company. Following the American financial crisis, Mbue lost her job and was unemployed for a year and a half. According to her, she was disillusioned about life in the US and the American dream, which is not accessible to everyone. She toyed with the idea of returning to Cameroon.
In contrast to the characters of her novel, however, Mbue found success in the US. She has held American citizenship since 2014 and her novel, which was published in 2016, was a surprise hit.

Book
Imbolo Mbue, 2016: Behold the Dreamers. Random House, New York.

Sabine Balk is editor of D+C/E+Z.
euz.editor@dandc.eu