Humanitarian crisis
UN calls for massive funding for Afghanistan
In order to tackle Afghanistan's ongoing humanitarian crisis, the UN has launched a huge funding appeal. It wants to raise $ 4.4 billion for 2022. "This is the largest ever appeal for a single country for humanitarian assistance," says UN Emergency Relief Coordinator Martin Griffiths.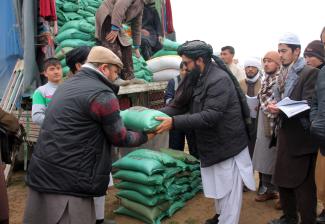 picture alliance / Xinhua News Agency / Stringer
The background is that Afghanistan faces "unprecedented levels of need amongst ordinary women, men and children," according to a report the UN Office for the Coordination of Humanitarian Affairs (OCHA) published in January. It is called Afghanistan Humanitarian Response Plan 2022 and reckons that 24.4 million people suffer humanitarian need. This is more than half the country's population.
Apart from violent conflict, the country has been hit by two severe droughts in four years. According to OCHA, Afghanistan is now the country with the most people suffering food insecurity in the world. "More than one in two children under-five is facing acute malnutrition and will be at risk of death if immediate action is not taken," OCHA warns.
Before the Taliban seized power last summer, Afghanistan's economy depended heavily on foreign aid. This support was withdrawn, and things have been deteriorating since.
Close to 700,000 people were internally displaced by conflict in Afghanistan in 2021, according to OCHA. Almost 9.2 million people have been living in situations of forced displacement since 2012.
UN High Commissioner for Refugees Filippo Grandi calls for an additional $ 623 million to support refugees and host communities in five neighbouring countries. Around 5.7 million Afghan people are reckoned to require help outside the country.  
 
Links
UN's Office for the Coordination of Humanitarian Affairs (OCHA) on Afghanistan:
https://www.unocha.org/afghanistan
UN News on the aid appeal of January 2022:
https://news.un.org/en/story/2022/01/1109492

Jörg Döbereiner is a member of the editorial team of D+C Development and Cooperation/E+Z Entwicklung und Zusammenarbeit.
euz.editor@dandc.eu