Municipal development cooperation
Learning from one another
In 2015/16 and 2017/18, two exchange projects were run for Aachen and Cape Town municipal employees with the goal of strengthening cooperation at local government level. Participants feel that aim was achieved and that both municipalities are now better equipped to implement the Sustainable Development Goals (SDGs).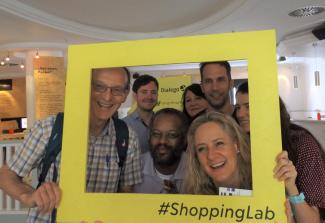 City of Aachen
On both occasions, six colleagues from each of the two municipalities spent a week in the respective twin city. In line with the programme's name "Learning from one another – For a sustainable city", they exchanged views on various aspects of sustainable urban development. These were:
urban climate
safe and clean city
sustainability in everyday life
economic development (economy/green economy)
university cooperation.
At the same time, the cities' universities also ran student exchanges with the same focus as the municipal exchange programme. The exchange arrangements were funded by the state of North Rhine-Westphalia through Engagement Global as part of the Municipal Development Cooperation support programme. The municipal contribution was ten percent.
Reciprocal training sessions were arranged and operational work assignments performed during the visits. Participants also compared notes on the development and implementation of work strategies and looked at how they could be usefully adopted by the partner city's administration. Differences in social and economic environment that became apparent during the exchange were also taken into account.
The exchanges with colleagues had a noticeable effect on municipal employees. The shared experiences and personal encounters were felt to be very valuable. Excursions with colleagues from the same departments (but also with different areas of responsibility) were found highly motivating and inspiring for participants' own work. Both municipal employees and students reported the following learning and development processes in the field of sustainability:
They increased their knowledge in their own field of work or study and profited from interdisciplinary and cross-cultural stimuli.
They received positive impulses for their own work.
They experienced practical networking with other departments and gained a deeper understanding of the importance of cross-cutting tasks.
They improved their language and communication skills.
They found that commitment (willingness to perform tasks on top of their normal workload) and motivation (ambition beyond promotion and salary) increased.
These results suggest that the exchanges can be perceived as a very valuable resource for the development of competencies. According to a definition by Erpenbeck (2010), competencies are more complex than the mere existence of knowledge, skills or abilities. Instead, competencies are based on a complex interplay of knowledge, skills, values, experience and the will to translate this into practice. Responses of the municipal staff suggest that there has been remarkable gains regarding these aspects. The students' statements were similar; many said they developed a new perspective on fundamental values such as national and international distributive justice.
This is very important for the goals of the municipal exchange programme, which was established to strengthen municipal cooperation for sustainable development as well as to implement the SDGs. Promoting these goals calls for creativity, motivation and commitment on the part of municipal staff, which can hardly be generated by the limited instruments of pay and promotion policy alone. Indeed, the values and convictions acquired informally by employees in the municipal exchanges probably play a much more important role.
As a matter of fact, both municipalities have seen a number of changes in recent months which directly benefit the improved implementation of SDGs and thus promote sustainability. There has also been a significant improvement in cooperation not only between the two municipal administrations, but also within the administrations themselves as well as with other stakeholders on a municipal level.
For example, the cultural and human-resources departments in Aachen are both keen to amplify the scope of positive stimuli. The human-resources department aims to compare HR development, training and recruitment with its partners so that all can learn from one another's experience. At the same time, the head of the cultural department is committed to a school partnership that will carry the positive experiences of exchange programmes into the education sector. In addition, one Aachen district has successfully adapted positive examples of civic participation from Cape Town, so it can be assumed that district workshops (with participants from local government, associations, politics, trade and commerce) will be held more frequently in Aachen in the future.
Cape Town created and filled a staff position responsible for international partnerships (and fundraising for them). In Aachen, a visit to Cape Town was arranged for a delegation of business leaders, council members and senior administrators. The trip proved inspiring at all levels. The mayor of Cape Town, for example, motivated his counterpart in Aachen to follow Cape Town's example and publish a "Portfolio of Sustainability".
Such contacts are intended to create enduring and sustainable links between local government representatives, business leaders and policymakers. To achieve this, long-term political support and the availability of reliable responsible contact partners are important prerequisites. They are vital for ensuring continuous networking and the establishment and maintenance of contacts. Exchange participants pointed this out in a final workshop.
In a way, Cape Town municipality has responded to this call by creating the staff position for international partnerships. The move can only be a start, however, because the issue needs to be addressed as a cross-cutting municipal task. It is thus crucially important that all those involved, both policymakers and administrators, are fully committed.

Reference
Erpenbeck, J., 2010: Kompetenzen. Eine begriffliche Klärung. In: Heyse, V., Erpenbeck, J. & Ortmann, S. (eds.) (only in German): Grundstrukturen menschlicher Kompetenzen: Praxiserprobte Konzepte und Instrumente. Waxmann, Münster/New York/München/Berlin.

Gabriele Schütz-Lembach has overseen the development of the city partnership for 20 years. She has also organised exchanges for municipal employees.
gsl-ac@posteo.de
Ulrike Devers-Kanoglu is educationist and has worked as a research assistant at Cologne University.
udk@posteo.de