Business support
In Malawi, an NGO is helping victims of gender-based violence
Many women still face gender-based violence (GBV). In Malawi, the non-profit organisation Purple Innovation is rehabilitating victims by engaging them in entrepreneurial projects.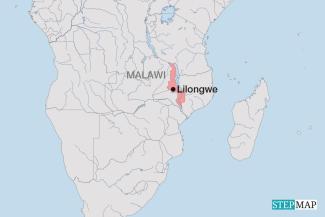 Stepmap
49-year-old Malita Ngumbi is a widow from Mzuzu, northern Malawi, and a beneficiary of Purple Innovation's work. In 1997, Ngumbi faced what she describes as the worst form of sexual and physical abuse from her then-husband. 
"I was beaten and sexually assaulted to the extent that the district hospital could not handle my case," she recounts. At the time, she was transferred to Kamuzu Central Hospital, Malawi's biggest referral hospital. Afraid of facing the law, her abusive husband fled and left her with three little girls.
"It was tough for me to look after my children because previously, I solely relied on my husband," she says. In 2008, Ngumbi remarried a single father with four toddlers. Her family expanded to seven children. However, the cycle of abuse soon reoccurred. "Whereas my second husband did not hurt me physically, he would abuse me verbally. One night, things got worse; he came home drunk and ordered to sleep with one of his friends." In 2013, Ngumbi's second husband passed away, leaving her with seven children to care for. "I didn't know what to do, it was tough to provide for my family," she says.
Purple Innovation is turning around the fortunes of women such as Ngumbi who owns a grocery store in her village, now. In 2019, the organisation launched a project called "Ukani End Violence Against Women and Girls", with the support of the international agency UN Women. It helped women who have faced domestic violence launch businesses and become financially independent. 
"I never thought one day I would be an independent woman and own a business," Ngumbi says. With the income from her business, she is now able to support a family of 18 that includes her children, her second husband's children, and grandchildren.
Since May last year, Purple Innovation has worked with around 200 women in northern Malawi. These have started collective and individual businesses. The NGO provided access to easy credit for women. "We organised the women into groups, gave them a group loan and tasked them to run a joint business idea. Thereafter, they shared the profit and used it as capital to start up individual businesses," Rhoda Ng'ambi, a project officer at Purple Innovation, says.
The organisation also addresses the root causes of gender-based violence. It has set up community policing groups to work with national police to monitor cases of violence in Mzimba and Nkhata Bay districts. For example, in Mzimba, unlike previously, areas which had been characterised by this violence are now reporting fewer cases. 
"People now know what GBV is. Further, women are now able to report unlike in the past when they would conceal what they were facing in their marriages," Amina Phiri, a member of the community policing group in Mzimba, says.
Rabson Kondowe is a journalist in Blantyre, Malawi.
kondowerabie@gmail.com