Hotspot Afghanistan
Private sector needs suitable financing
Despite the ongoing crisis in Afghanistan, the private sector is holding its own. Small and mid-sized enterprises, in particular, have the potential to boost economic development and contribute to rebuilding the country. To do so, these enterprises need targeted support and access to finance.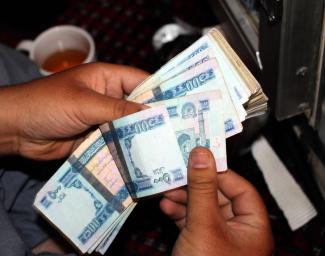 Sanaullah Seiam/picture-alliance/Photoshot
Afghanistan is located on the old Silk Road and has a long tradition of entrepreneurship and trade. Small- and mid-sized enterprises (SMEs) are today the engine of the private sector: according to a 2014 study by the thinktank Afghanistan Research and Evaluation Unit, 85 % of all enterprises are SMEs, they generate half of the economic output and provide 35 % of jobs. The financial sector has an essential role to play in supporting these engines of growth.
Many initiatives aim to improve SMEs' access to finance. What is needed above all is formalisation of the economy. Banks and officially registered microfinance institutions (MFIs) have been newly established since 2004, but so far they cover only a small share of company financing. Private loans and informal finance account for the largest share: only two percent of all companies use bank loans to finance their investments. Bank loans to private enterprises account for only 3.5 % of national economic output. According to a recent OECD publication, this is the lowest percentage worldwide.
An estimated 80 % of real estate in Afghanistan is not officially recorded in the land register and therefore cannot be used as collateral for loans. As a result, even wealthy business owners with large real estate holdings do not meet banks' requirements. Most businesses do not use proper financial accounting and business plans are extremely rare. As a result, lending decisions in Afghanistan are marked by a very high degree of uncertainty.
To mitigate the risks of lending and the lack of collateral that banks can accept, loan guarantees are crucial. The ACGF – Afghan Credit Guarantee Foundation guarantees about half of the loans to SMEs, totalling around $ 50 million (as of the end of 2017). An external evaluation recently showed that without the loan guarantees most of the ACGF's lending partners would not be able to serve this target group, or would do so only to a much more limited extent.
In addition to the actual risks, the high perceived risks are also relevant. These stem from the fact that the finance sector has little experience with SMEs. Basic training, the development of innovative products – for instance in renewable energy, Islamic loans or Fintech instruments – and support in reaching out to new customers such as start-ups or women-led businesses, could improve SME financing.
Millions of Afghans had to leave their country during the civil war. Most of them went to Pakistan and Iran. Many of them are now being forced to leave their host countries, and some are doing so voluntarily. Although the large number of returnees places a burden on Afghanistan in many respects, they also present opportunities for the SME sector. In most cases returnees initially establish micro-enterprises, but many have professional qualifications and experience that enable them to manage larger enterprises and thus create jobs.
The financial sector is one of the most important drivers of further development of SMEs. The Afghan central bank has also recognised this. It recently approved the use of loan guarantees as a fully-fledged substitute for real collateral, and generally loosened the rules for securing loans. This makes lending much easier for banks and MFIs. With the support of the World Bank, the OECD and the EU, the Afghan government has also formulated a strategy to promote the private sector. Access to finance and formalisation of the economy are key components, but are still in their infancy. With loan guarantees for risk-sharing, advice and training for the financial sector and regulatory support from the central bank and government, the private sector will be able to continue its positive development.

Bernd Leidner is chairman of the management board of ACGF – Afghan Credit Guarantee Foundation. The ACGF guarantees loans to SMEs and provides technical support for the Afghan financial sector.
b.leidner@acgf.de

LINK
OECD, 2019: Boosting private sector ­development and entrepreneurship in ­Afghanistan. OECD Publishing, Paris.
http://www.oecd.org/eurasia/competitiveness-programme/central-asia/Boosting-Private-Sector-Development-and-Entrepreneurship-Afghanistan-2019-EN.pdf