Law courts
In Pakistani courts, a few women wield strong influence
Women are underrepresented in Pakistan's judiciary. That is particularly so at the top level. Nonetheless, some female judges wield considerable power.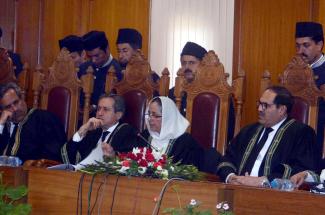 picture-alliance/ZUMAPRESS.com/PPI
Justice Ayesha Malik was appointed as judge to Pakistan's Supreme Court in January 2022. She is the first woman to achieve that rank. Before, she had been one of only six female high court judges, though the five high courts have 113 judges. Some of the women play important roles, however. Tahira Safdar, for example, has been chief justice of the Balochistan High Court since 2018. Mussarat Hilali became chief justice of the Peshawar High Court in May this year.
A flawed appointments process is the main reason why women are underrepresented in the superior courts. The process has allowed the men who dominate the courts and the bar politics to give preference to male candidates. Accordingly, women's representation is greater at the lower level of courts, where appointments are based on competitive entrance exams. Similar trends are evident in other fields.
Unfortunately, women judges in lower courts are often side-lined. For example, some are only deemed fit to work in family courts. This is the branch of the judiciary in which women first gained a role as early as in the colonial era. An important reason was probably that fees – and illicit bribes – were comparatively low.
Failed Islamist attempt to ban women from serving as judges
On the other hand, Islamist radicals have not succeeded in preventing women from serving as judges. This was attempted under military dictator Muhammad Zia ul Haq in the 1980s. Due to reforms of evidence law under his rule, female witnesses were no longer considered equal to male witnesses. A petition was then filed, which argued that women could therefore not be judges. It also insisted that women must cover themselves and should not interact with the opposite gender openly.
The Federal Shariat Court, which rules on religious matters and was established by Zia in 1980, dismissed the petition. It ruled that neither Islam nor Pakistan's constitution barred women from serving as judges. Nonetheless, the judgement did reiterate anti-women biases which are not of a strictly legal nature. Instead of limiting their decision to a legal and jurisprudential analysis, the judges delved into social and cultural biases which should have no place in a judgment.
These biases, moreover, are precisely what prevents Pakistani women from tapping their full potential. The full picture today is that women judges, lawyers, and especially litigants regularly must cope with aggressive men's intimidation. At the same time, even the physical space of court rooms is not designed to accommodate women. They typically lack sitting areas for women and feeding spaces for nursing mothers. Most courts do not even provide adequate toilets for women. The road to full gender justice remains long, but important first steps have been taken.
Marva Khan is assistant professor of law at LUMS (Lahore University of Management Sciences) and co-founder of the Pakistani Feminist Judgments Project.
marva.khan@lums.edu.pk