Food crisis
Shortage of maize meal in Zambia
Many Zambians rely on maize as their main source of food. Popularly known as "mealie meal", the crop is widely grown in the country for both consumption and export. Now, as harvests reduce, a crisis has ensued.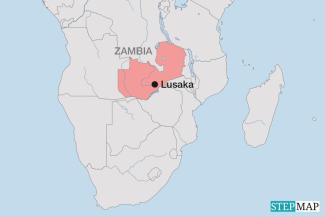 Stepmap
There is currently a critical shortage of mealie meal in some parts of the country, and it is now common to find long queues of people scampering to grab a bag of maize. The shortage is in part driven by external demand for maize grain in the Democratic Republic of the Congo (DRC) and other East African countries affected by drought and lack of grain supplies due to the war in Ukraine.
Therefore, prices are skyrocketing. According to the Zambia Statistics Agency retail prices between February 2022 and February 2023 showed that the national average price of a 25 kilogramme (kg) bag of mealie meal increased by more than 25 %. A check in most retail shops indicated that a 25 kg bag goes for between K 200 and K 250 ($ 10 to $ 13) on average. However, it is projected that these prices will surge by about 60 % to reach approximately K 270 and K 350 per 25 kg bag, writes the Farmer's Journal Africa.
"We have suffered as consumers. The commodity should be available and at an affordable price," says Michael Chilufya from Lusaka.
The current situation has induced an upswing of smugglers of maize in the southern African country. Cartels of smugglers are now heightening the transportation of maize across the border in the DRC where there is a lucrative price of maize meal and grain.
The Zambian government had previously estimated that the country had more than 800,000 metric tons of white maize, which should have been sufficient for local consumption before the country's 2022/2023 harvest season. The huge demand from East Africa and South Sudan has affected the country's plans. Now, traders are buying up the maize from farmers and exporting it. This has led to local food shortages and threatened to escalate into a food-insecurity crisis. 
The shortage of mealie meal has also reached the Copperbelt Province where consumers are complaining about inadequate supply coupled with hiked prices in retail shops. Copperbelt minister, Elisha Matambo, recently described the shortage as a crisis: "We warn all those who will be found smuggling mealie meal in the Copperbelt that they will be visited by the law because mealie meal is important for every citizen and the government will not allow unscrupulous people to continue sabotaging our food security policy." 
Matambo also asked retailers not to be part of those sabotaging the Zambian government during the crisis. She further said: "We appeal to all members of the public to come forward and report any suspicious vehicle or group of people smuggling mealie meal."
The Zambian government has since put measures in place, such as the temporary suspension on the issuance of export permits until the commodity is stabilised. However, they are cautious not to implement a permanent ban on exports because it would affect the long-term export trade. 
Derrick Silimina is a freelance journalist based in Lusaka.
derricksilimina@gmail.com