Economic policy
Interrelated challenges
African policymakers must rise to several daunting challenges, argues Vera Songwe of the UN Economic Commission for Africa. Crosscutting trends matter very much.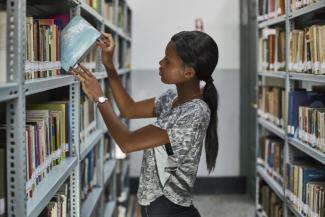 Espadas/picture-alliance/Westend61
For example, climate change will have a strong impact. Africa is on the equator and comparatively hot already, Songwe says. On the upside, innovative renewable-energy infrastructure looks promising.
Digitalisation offers opportunities that African countries must grasp, Songwe argues. In Nairobi, for example, the number of young people providing internet-based services to foreign customers is growing fast, though it is still small in absolute terms. At the same time, the economist sees digital development bypassing not only Africa, but even Europe to a considerable extent. The reason is that the leading corporations are based in the USA and China
Songwe wants African governments to do a better job of raising taxes and building infrastructure. As economies grow, they cannot keep relying on official development assistance (ODA). On the other hand, she praises their decision to create the Continental Free Trade Area (CFTA), which should facilitate trade between African countries and allow new supply chains to emerge. She sees the CFTA as a new kind of multilateralism that is challenging the old variety.
Songwe warns that African countries are at risk of missing the opportunity to grasp a dividend from demographic change. In her eyes, South Africa and Nigeria have already failed to do so (see main story). On the other hand, the economist appreciates that 92 % of African girls are now in school and that gender equity has been achieved among university students.
Things are different in the workforce however. For example, only seven percent of financial-sector employees are female, Songwe points out. Experts agree that unemployment and under-employment affect young women even worse than young men, reinforcing stereotypes of motherhood and homemaking – potentially slowing down the decline of fertility rates (see Samir Abi in D+C/E+Z e-Paper 2020/04, Focus section).