Covid-19 vaccination
Covid-19 vaccination: Don't leave Africa behind
In Europe and North America, public debate focused on how fast Covid-19 vaccination programmes are progressing in recent weeks. In Africa, the question was when such programmes might begin.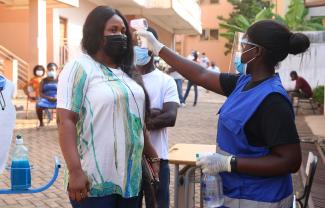 Christian Thompson/picture-alliance/AA
In early February, that had only happened in Egypt, Mauritius and Guinea. Guinea had administered a mere 55 vaccine doses, according to the Bloomberg Vaccine Tracker. The comparative figure for Mauritius was 207. By contrast, 43 million doses of Covid-19 vaccines had been administered in the USA by 9 February. The comparative figures were 31 million in China, 12 million in Britain and 3 million in Germany.
This scenario is unacceptable. Paul Kagame, the president of Rwanda, wrote in the Guardian: "There are worrying signs of vaccine nationalism in Europe and North America." Insisting that vaccination is not a matter of charity, he warned: "Until Africans get the Covid vaccinations they need, the whole world will suffer." This is correct for several reasons. One is that virus mutations are likely in places where people are not inoculated, and those mutations can then affect other places. Another reason is that fear of the pandemic is an obstacle to economic development, so vaccination is important for international supply chains to be fully re-established. Since masses of Africans depend on the tourism sector, more­over, poverty is worsening because holidaymakers from prosperous world regions are staying away.

Vaccine race
Africa was easily swept away in the race for the coronavirus vaccines. While the rich countries succeeded in acquiring millions of doses within the first few weeks of vaccine discovery, Africa is still negotiating with the manufacturers. John Nkengasong, the director of the Africa Centres of Disease Control and Prevention (Africa CDC), described the situation as "discriminatory". The Africa CDC is an institution of the African Union and cooperates with regional centres throughout the continent. Nkengasong added: "Excluding people based on their country of origin would defeat the vaccination programme's goal of reaching herd immunity, which is achieved when a large part of the population is immune to the virus."
The situation is not hopeless. The Covax initiative, which was started in the G20 context last year, has pledged to vaccinate 20 % of the people in partner countries, and that includes Africa. As a consequence, the World Health Organization (WHO) is expected to deliver 600 million doses of the vaccine. On top of that, the Africa CDC is hoping to secure another 270 million. That would be a good start, but it would certainly not suffice. Africa has a population of 1.3 billion people. It is worrisome, moreover, that the vaccines are scheduled to arrive from April on. There is reason to believe that things will not work out as planned.

Nigeria and South Africa
In Nigeria, for instance, the first batch of 100,000 vaccines the country said it would purchase were initially billed to be delivered in the last week of January. It has since been shifted to early February. As of 9 February, Nigeria's 200 million people were still waiting for vaccinations to begin.
In South Africa, President Cyril Ramaphosa announced in January that 1.5 million doses, which would have vaccinated about 750,000 people, would arrive "in the next several weeks". His policy is now in disarray after scientists found that the AstraZeneca vaccine does not adequately protect people from the coronavirus mutant that is spreading in – and also beyond – his nation.
There are several vaccines. Three are produced by multinational pharma corporations based in Western countries. All three have been approved by regulators according to international standards. There are also vaccines from Russia, India and China. Research suggests that they are effective, but by early February, they had not been approved by the WHO which adheres to international standards. For obvious reasons, people around the world prefer pharmaceuticals that meet the requirements of the strictest regulators. As the WHO is playing an important role in Africa, its criteria are very important. Even if they want to, African policymakers will find it hard to simply opt for other vaccines than the WHO appreciates.

Africa's Covid-19 track record
The need to protect Africans from the coronavirus must not be underestimated. That, however, is happening to some extent because Africa has been trailing behind the rest of the world in terms of Covid-19 infections and deaths. Why that is so, is not fully understood. Experts say that hot climates may play a role and that Africa's comparatively young populations may be less affected. Moreover, African societies are said to have learned to stick to hygiene rules in view of several Ebola outbreaks. The list goes on.
As of 9 February, Africa has recorded 3.7 million cases of coronavirus, with 3.2 million recoveries and not quite 96,000 deaths, according to Worldometer's global coronavirus tracker. Southern Africa accounted for nearly half of those cases, with most infections registered in South Africa.
The official statistics, however, probably do not show the full picture. Health infrastructure tends to be particularly poor in least developed countries and, more generally speaking, in the remote areas of developing countries and emerging markets. Testing capacities depend on the quality of health infrastructure. Most likely, some Covid-19 patients are never professionally diagnosed with this disease in Africa. On the other hand, people know about the pandemic, and mobile-phone connectivity means that rural people can make themselves heard when an unprecedented health disaster escalates.

New coronavirus variants
African countries responded to the first news of the pandemic fast. Early travel restrictions and lockdown measures have probably helped to curtail the spread of the virus. Nonetheless, there is now a second wave, and the discovery of new Covid-19 variants is a matter of concern. Infection numbers rose in December and January in Africa. On 28 January, Matshidiso Moeti, the WHO regional director for Africa told a virtual press conference: "In the past week, there has been a small dip in cases in South Africa, but 22 countries continue to see their case numbers surge." According to her, the number of deaths had doubled in four weeks.
Africa needs effective protection against the disease. Moreover, the global community needs Africa to be protected. Policymakers around the world must speed up efforts to make that happen. As the Rwandan president wrote in his newspaper comment, this is not about charity: "All we ask for is transparency and fairness in vaccine access, not the protectionism currently in play." He wants the WHO to speed up the approval processes for vaccines. Moreover, he demands that countries with small populations get the same affordable pharma prices as the EU or the US have negotiated with powerful multinational corporations.

Ben Ezeamalu is a senior reporter who works for Premium Times in Lagos.
ben.ezeamalu@gmail.com
Twitter: @callmebenfigo