Drones
Help from the sky
Malawi is establishing itself as a centre of excellence in the design and use of drones – unmanned aerial systems that can quickly collect geological and climate information, take aerial photos and deliver critically needed supplies.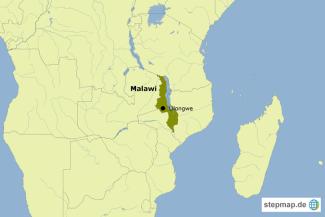 stepmap.de
This year Malawi opened a new training centre for the development of drone technology and for the analysis and visual presentation of data collected by drones. The centre – the African Drone and Data Academy (ADDA) – is supported by Unicef, the UN agency for children, and by aid organisations from several countries.
Malawi has also created a corridor to test drone flights for humanitarian purposes. The corridor – for drone flights within a restricted zone up to 400 meters above ground level – is located near Kasungu airport in the Central Region. A student working there has built a drone that flew 17 kilometres, Unicef says.
The aims of both the air corridor and the ADDA training centre include speeding deliveries of critical items such as laboratory samples and emergency medical supplies to and from all parts of the country, and ultimately all parts of Africa. Many remote areas rely on much slower road and ferry transport.
Drones are also used to collect data that helps to prevent and respond to natural disasters such as droughts and floods. For example, the devices collect data that pinpoint mosquito-breeding sites so that officials can fight malaria and other diseases more effectively.
ADDA supports these aims by responding to "a lack of skills in drone and data technology in Malawi and the wider African continent," says Rebecca Phwitiko from Unicef. Developing drone technology for humanitarian purposes fits in well with the agency's mission to improve the lives of children. "We want to advance technologies that deliver services more effectively to hard-to-reach communities," says Phwitiko. "This includes new products and programming that support children's growth, development, education and protection."
The ADDA trainees are Africans aged between 18 and 24 years who can show proficiency in English. Students also must have university training in a field of science, technology, engineering or mathematics or equivalent practical experience.
The first cohort has already received certificates for completing ADDA courses in drone technology and data analysis. Those students can now use their skills in their home countries, which include Uganda, Kenya, Nigeria, Tanzania, Botswana, Sierra Leone, Ethiopia, the Democratic Republic of the Congo and host country Malawi.
In all of these countries, poor transport links can delay supplies of critically needed items and medicines such as malaria drugs, antibiotics, blood transfusion kits and vaccines. Especially in poor and remote communities, health care can be hard to find. With Malawi's drone technology and training initiatives, help may soon come from the sky.

Raphael Mweninguwe is a freelance journalist based in Malawi.
raphael.mweninguwe@hotmail.com