Human security
Global silence in view of genocidal action
Over 500,000 Rohingya, mostly children and women, have fled to Bangladesh in recent weeks. Several thousand died en route. Bangladesh is facing a dramatic humanitarian crisis because the Myanmar army began to crack down on the entire community after an armed Rohingya group attacked several police posts and an army base on 25 August 2017.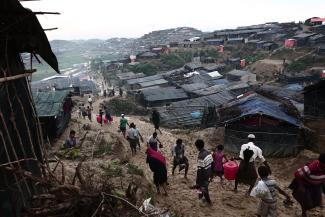 Zakir Hossain Chowdhury / picture-alliance / NurPhoto
The Rohingya are a Muslim minority people in the Rakhine state (formerly Arakan) of Myanmar. They face discrimination, and predominantly Buddhist Myanmar does not recognise them as citizens. There is a long history of Rohingya fleeing to Bangladesh and other countries. 
The current crisis is worse than the previous ones. Zeid Ra'ad Al Hussein, the UN high commissioner for human rights, has spoken of a "textbook example of ethnic cleansing". Indiscriminate killings, the burning of villages and fields, rapes and "disappearances" are being reported. The perpetrators belong to the Myanmar army. Soldiers are accused of opening fire on fleeing people, planting landmines and electrifying barbed-wire fences along the border. What is less well known, is that that over 30,000 non-Muslims have been internally displaced, and Hindus have been fleeing from Myanmar to Bangladesh.
Politically, this is the second major crackdown on the Rohingya since Aung San Suu Kyi came to power in 2015. Though the noble laureate has no formal government office, she pulls the strings as head of the ruling party. Her tacit support for the military continuing to violate Rohingya's human rights is deeply irritating.
To a large extent, Bangladesh must cope with this crisis on its own. The government states that all Rohingya refugees must eventually be taken back by Myanmar. The priority, however, is to protect the life and health of the refugees. Bangladesh is a very small and resource-poor country,  but has a huge population of 160 million. It is estimated that at least 500,000 Rohingya were living in Bangladesh even before the current influx began. Now the number must have risen to more than 1 million. The current humanitarian crisis is overburdening the country.
Turkey, Indonesia and Malaysia responded promptly. They assured assistance for rehabilitating refugees and providing them with shelter in Bangladesh. Germany and Iran also have promised such assistance. However, other nations must do more than merely provide food and money. They should also accept Rohingya refugees from Bangladesh, at least temporarily.
In spite of clear signs of genocide, the global community and the Western media remained quite silent for a long time. The UN Security Council discussed the crisis twice. The first meeting asked Myanmar to end violence and the second ended with no concrete resolution.
The stance of India is dubious. In September, Prime Minister Narendra Modi visited Myanmar and expressed support for the government. Modi's party is known for its anti-Muslim attitude. His government claims that some Rohingya refugees in India are "terrorists" and wants to deport them. Because of a case being heard by the Supreme Court, it cannot do so, but it certainly does not want to take in more refugees. On the one hand, Modi promised to ship some rice to Bangladesh. On the other hand, he is apparently considering selling arms to Myanmar's military.
China and Russia clearly support the Myanmar government. The USA is not showing any determination to act. In this scenario, much hinges on the diplomatic ability of Bangladesh to negotiate with Myanmar. Dhaka has expressed faith in a peaceful resolution of the problem and even tolerated two breaches of its aerial limits by Myanmar's military helicopters. In an interesting twist, Bangladesh wants to import rice from Myanmar.
The UN must take the issue of ethnic cleansing in Myanmar much more seriously than it has done so far. It cannot avoid its responsibility to protect. It seems that there can be no real solution without Myanmar accepting that the Rohingya are indeed its citizens.
Bangladesh is playing its part – but others must put pressure on Myanmar as well. The growing international recognition of the problem seems to have had some impact already. Myanmar authorities have reluctantly expressed a willingness to take back "some" Rohingya. At the same time, however, persecution is continuing in Myanmar.

Ridwanul Hoque is a law professor at Dhaka University.
ridwandulaw@gmail.com