Armed conflict
The distance between war and peace
Only one kilometre separates Babsharqi from Jobar in the Syrian capital Damascus. The difference is the one between life and death. One neighbourhood is at peace, and war is raging in the other one.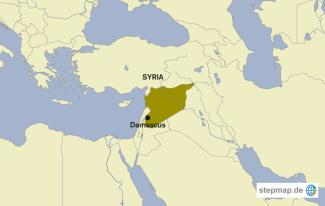 stepmap.de
Militia groups use Jobar as a last resort, so it has become one of the hottest conflict zones in the country. The civilians who still live here have to spend their nights in shelters, terrified of airstrikes or mortar shells.
Babsharqi's nights are noisy too, but not because of bombs. Here people are dancing to the sounds of pop music and jazz. Today, Babsharqi is well known for bars and dance halls. Every now and then, the music is interrupted by the rumbling sound of the airstrikes on nearby Jobar. The noise takes the smiles off dancers' faces, but a second later, the smiles are back. The music keeps playing.
24-year-old Rita likes to spend her time in these bars. "We're tired of the war," she says. "We are exhausted. You may think that getting used to the sound of bombs is abnormal, but sadly this is our reality." She adds: "We just want to live."
Babsharqi celebrated last Christmas in a way that hadn't been witnessed in the past six years of war. Church tower bells ringing, bright decorations were lit and choirs sang "Hallelujah".
Before the start of the war in 2011, there used to be no more than ten bars in the area, but now the number of bars, coffee shops and nightclubs has increased enormously. In the midst of war, Babsharqi's lifestyle is colourful.
Things are totally different in Jobar, just one kilometre away. The infrastructure has been destroyed, and so have 80 % of the buildings. Statistics reveal that 90 % of the local population has fled. Only a couple of thousand people still live here. Most people find the circumstances unbearable. More than 1,500 people have been killed in Jobar in the past seven years.  
Some people have fled from Jobar to Babsharqi. It is depressing to see their tears as they watch their beloved Jobar neighbourhood being bombed and destroyed.
Ahmad is one of them. "I left my house four years ago with a ton of memories," the young man of 32 years says. "Every time I hear the sound of an airstrike, I pray that it won't hit my house. I wish I just could be home again."

Nawar Almir Ali is a journalist and lives in Damascus, Syria.
nawaralmir@gmail.com