Plastic
Balancing profits and staff welfare in Ivory Coast
Coliba is a young formal-sector company that specialises in the recycling of plastic waste in Abidjan. One of its co-founders elaborates the business modell.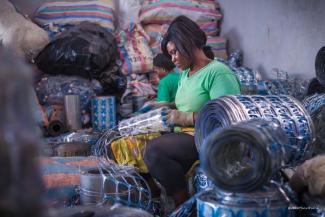 Jean Mar André/Coliba
In what sense is plastic waste a problem in your country?
Ivory Coast only recycles about three percent of the plastic used here. The Abidjan agglomeration with more than 5 million people accounts for 290 tons of plastic waste daily, which almost entirely ends up in the environment. Plastic waste is everywhere, including in the ocean. Our country still does not have a systematic approach to tackling the problem. African governments grapple with many problems, but environmental awareness is slowly growing. So, we see this problem as an opportunity to create decent jobs for people living in disadvantaged communities.
What does your company do?
We've developed a mobile application that connects households and small businesses with our formal waste collectors. In exchange of plastic waste, households receive points that can be converted into basic food stuff, while the informal collectors get paid. Our actual collection capacity is 1,500 tons per year. We have a recycling plant where all the PET we collect are being transformed into high-quality flakes that serve as input in plastic manufacturing. In Africa, the market is still tiny, so we sell our flakes to clients in European countries. Apart from helping to protect Abidjan's environment, we are creating jobs. Currently, we have 35 full-time employees, including the management team and the recycling-plant staff. Seventy-five percent of our staff are women. Additionally, we provide work to more than 100 waste collectors, mostly women. Waste collection is an informal livelihood in our country. We believe that a company must look after its workers, so we do our best to balance profitability and staff welfare.
Have you broken even yet? And where do you see your company five years from now?
We expect to break even by 2023. Our total revenue is currently less than 1 million euros per year. Right now, we are investing massively in waste collection infrastructures and in a new recycling plant to enable us to recycle 15,000 tons by 2025. Huge volume of plastic is needed to make a recycling business profitable. In 2025, we hope to employ 350 permanent staff and 6,000 informal waste collectors. Moreover, we plan to expand our operations to other West African countries like Senegal or Nigeria.
Plastic recycling is difficult. The quality tends to deteriorate over time due to the mixing of different types of plastics. What implications does that have?
Yes, the quality of recycled plastic depends mostly on the quality of its sorting. Which is the reason why we focused on collecting directly from the source. We also train informal collectors on how to better sort their waste. With the coming of our optical sorting machines, we would be able to solve a major part of this issue. We focus on PET, HDPE, PP and PE plastics. These chemicals are recyclable and less toxic.
How does Coliba protect its staff and waste collectors from exposure to toxins and unhygienic spaces where garbage is collected?
The safety of our staff and employees matters very much. We recognise the risks. We provide protective gear like gloves and masks as well as soap. That is standard operating procedure (SOP) at our recycling plant, and we make these things available to the garbage collectors as well. That has become especially important in the Covid-19 pandemic, of course. We could not afford to shut down, because that would have been financially devastating. Moreover, waste collection and recycling cannot be done from home. Only 10 of our staff can work remotely – and we insist that they do that. Nonetheless, our operations slowed down during the pandemic. Many businesses like restaurants and hotels that produce plastic waste closed after all. At the same time, waste collection from homes and private businesses also declined. People became hesitant to let outsiders into their private spaces.

Genesis Ehimegbe is a co-founder and executive manager of Coliba, a plastic-recycling company in Ivory Coast. Coliba has enjoyed support from Greentec, a Frankfurt-based investment fund specialising in environment-friendly businesses in developing countries.
genesis@coliba.ci
Twitter: ehi_genesis / ColibaCIV