Employment
Skills of Congolese refugees
There are more than 1.4 million refugees from seven African countries in Uganda. All of them face numerous challenges: lack of accommodation or food, language barriers and cultural shock as well as limited access to health care and work. However, refugees from the Democratic Republic of the Congo (DRC), who are the second-biggest group of refugees in Uganda, tend to have more employment opportunities than others because of their skills.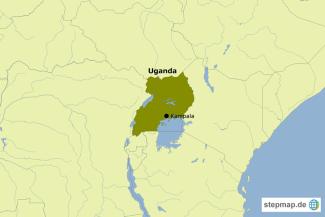 stepmap.de
All over Africa, Congolese are known as excellent hairdressers, designers, guitarists and singers. Additionally, most of them know many different languages. These skills have made Congolese refugees stand out. They contribute a lot to Uganda's struggling economy and provide services at much lower rates than the locals.
For instance, 33-year-old Moise Mbulula took refuge in Uganda eight years ago. It took him less than a month to get a job as language teacher at the Alliance française, a French school in Kampala. Now, he gets one assignment after the other. His language skills – English, French and Kiswahili – cut across the majority of the east African communities and the Great Lakes region. He is often invited to interpret at cross-cultural events; he translates documents from French to English or vice versa and teaches at several Ugandan schools. Besides, Mbulula is a journalist and an administrator at the Congolese-founded church "La Gloire" in Kampala.
His wife Adeline Kaluma Tembo is a renowned saloonist. She plaits different women's hairstyles, attracting more customers than Ugandan hairdressers. The same is true for Tabulee Mungu, a young Congolese refugee who runs a barber saloon in Wakiso district in central Uganda. "My saloon is for both men and women," Tabulee explains. "I shave men's hair, plait the women's and I do their nails."  
Top Ugandan fashion designers often hire Congolese tailors because of their outstanding tailoring skills. The best African fabrics, locally known as "kitenge", which are colourful and of good quality, are also manufactured in the DRC. Despite the insecurity in the eastern part of the country, some refugees risk to go back once in a while in order to bring kitenge fabrics back to Uganda and sell them there.
Congolese make big efforts to supplement the relief support that refugees receive. They are self-reliant and integrate quickly by creating jobs, employing fellow refugees and offering services to host communities. Some even manage to lead a better life in Uganda.

Gloria Laker Aciro is a writer and former war and peace reporter, now heading the Peace Journalism Foundation of East Africa. She lives in Uganda.
glorialaker@gmail.com
Blog: glorialakeraciro.wordpress.com
Twitter: @GloriaLaker