Rule of law
Covid-19 and human rights
In the course of the Covid-19 pandemic, detained persons suffered an increasing number of human rights violations. A report from the World Organisation Against Torture (OMCT) highlights abusive practices as well as legal ways to fight them.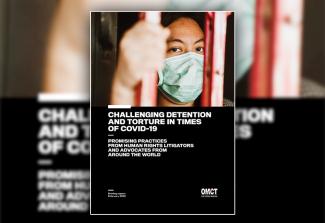 https://www.omct.org/site-resources/legacy/Report_Torture-and-Covid19_EN_240222.pdf
People in detention are generally at high risk of infectious diseases. After all, they live together at close quarters. Jails tend to be overcrowded everywhere, hygiene is generally poor and quarantine is often impossible. Persons with pre-existing medical conditions or pregnancies are especially vulnerable.
It thus was no surprise that Covid-19 spread fast in detention facilities. Because of rules that were meant to contain the disease, moreover, infected persons often struggled to get in touch with lawyers and insist on judicial review.
Nonetheless, lawyers did find ways to assist people in jails and improve protection against Covid-19. The OMCT report assesses pandemic-related issues, which were prevalent in many countries. It also discusses interventions made in Asia, Africa and Latin America.
Legal strategies
Around the world, complaints against unlawful detention helped to fight overcrowding in jails. These complaints are called "habeas corpus" in Anglo-Saxon common law. They can apply to individuals as well as groups. In the course of habeas-corpus cases, prisoners with high health risks were released into house arrest or on bail. In other cases, detention conditions improved. In the Brazilian state of Espírito Santo, collective legal action resulted in the release of people who had been unable to pay bail. An individual habeas-corpus complaint in Nepal restarted bail hearings.
In some cases, courts acted on "amicus curiae" briefs. These are documents that are submitted by third parties with the intention to inform judges of abuses. The Open Society Justice Initiative took this approach to obtain a ruling from the African Court of Human and People's Rights. The court indeed condemned the criminalisation of poor and marginalised people under vagrancy laws in various African countries.
Rules to contain Covid-19 restricted contact between prisoners and lawyers. Law firms and civil-society organisations found strategies to offer legal support without meeting in person. In some countries, they made authorities grant prisoners access to phones or the internet. In Argentina, for example, detainees were temporarily permitted to use mobile phones. Moreover, lawyers spoke with current and former inmates to learn more about the situation inside detention facilities.
Creating awareness
In times of crisis, the protection of prisoners' human rights depends on what the public knows about what is going on in detention facilities. In many places, activists launched awareness campaigns accordingly. They highlighted risks to both physical and mental health. As family visits were no longer allowed and access to phone and internet were denied, prisoners suffered considerable isolation. Civil-society organisations in Tunisia produced a ten-minute video to showcase the mental impact on both inmates and guards.
Public pressure can make authorities more willing to cooperate. Indeed, human-rights activists did join forces with judicial authorities to collect data and process individual cases. Civil-society experts also benefited from sharing experiences and ideas internationally. In joint efforts, they developed and tested strategies. Based on international exchange, the Justice Project Pakistan created a map of Covid-19 in prisons around the world as well as a tool to help authorities assess inmates' vulnerability.
Civil-society campaigns helped to shed light on another human-rights crisis, moreover. As the OMCT report points out, human rights were violated outside prisons in the context of Covid-19 related restrictive policies (see Ronald Ssegujja Ssekandi on www.dandc.eu). For example, pandemic rules were used to criminalise and arrest social activists in Indonesia and South Korea. Moreover, pandemic measures were implemented with excessive force or in the pursuit of other ends in various places. In El Salvador, for example, authorities imprisoned people arbitrarily, claiming they had violated quarantine rules. Such cases were addressed in habeas-corpus complaints.
Campaigns and alliances
Campaigns by civil-society organisations and alliances have proven helpful in the defence of detainees' human rights. The toolbox of legal activism includes going to court and the documentation of abusive practices. Up-to-date PR strategies matter too, including public statements, social media posts and the training of volunteers. In Kenya, activists launched a toll-free hotline and an email mechanism for reporting violations. They promoted both options on social-media platforms. In Tunisia, not-for-profit organisations joined hands with government agencies demanding that more detained persons be released. The result was that some 5000 could indeed leave detention facilities.
The OMCT is an international alliance of non-governmental organisations. The details published in the report were collected during international workshops called "litigation labs" in late 2020. The events were attended by 130 activists. The document was funded by sponsors including George Soros' Open Society Foundations.

Link
OMCT – Organisation Mondial Contre la Torture, 2022: Challenging detention and torture in times of Covid-19.
https://www.omct.org/site-resources/legacy/Report_Torture-and-Covid19_EN_240222.pdf

Jane Escher is a PR trainee with Engagement Global. She wrote this piece during a stint at the editorial office of D+C/E+Z.
jane.escher@engagement-global.de