World market
Haute couture
A dynamic fashion scene has emerged in many African countries in recent years. Sub-Saharan African designers are conquering the international catwalks. Their success is likely to have an impact on the perception of the continent and its economic devel­opment.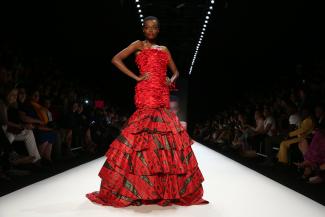 Eventpress Radke/picture-alliance/dpa)
African fashion designers are on the rise – in Africa and across the world. Cape Town and Lagos, Nairobi and Dakar are the continent's new fashion hubs. The number of regional fashion events that present opportunities to new talents is steadily increasing.

Consultancy Africa Intelligence, a Pretoria-based research firm, recorded 16 major fashion shows in Africa in 2011, of which three were staged in South Africa and two in Nigeria. The Swahili Fashion Week in Dar es Salaam is an annual highlight for designers from East- and Central Africa. Other international fashion events which serve African-based designers as a platform to showcase their work are held in Angola, Mozambique and Ghana. Moreover, new trends and labels are promoted on websites, in fashion magazines like the Nigeria-based Arise Magazine, which was founded by the Nigerian publisher Nduka Obaigbena, and by TV satellite programmes with Africa-wide reach such as DStv from South Africa.

Africa's new fashion is created by cosmopolitan designers who transcend narrowly understood cultural limits. Helen Jennings, a fashion journalist, featured more than 40 internationally successful designers in her recent book "New African Fashion". In her eyes, these people "are grounded in traditions, but are exposed to international trends and tastes, allowing them to satisfy local demand, attract international interest and shape contemporary African identities."

The global fashion industry's interest in African designs is growing. Top designers like Duro Oluwu and Ozwald Boateng have established their labels internationally. In July, an Africa Fashion Day was organised during the Mercedes-Benz Fashion Week in Berlin. The media and the public responded with great enthusiasm.   

"Fashion is an excellent way to promote the creativity of Africa and to shape a different image of the continent that is not reduced to poverty and animals but includes all diverse aspects of our life," Auma Obama said in Berlin. The Kenyan-based sister of the US president was the official patron of the Africa Fashion Day. Many designers share her view that their work should contribute to giving Africa a new international image.
 
"Fashion is a means of art and communication that helps bringing cultures together," says Nadir Tati, an award-winning designer from Angola. The success of African designers results from international markets' growing interest as well as from the growing self-confidence of Africa's creative  sector.
Growth prospects

Designers who want to produce their clothes in Africa face a number of chal­lenges however. "My main aim is to dress Angolan people with African designs and clothes made in Angola. But that is not an easy task," says Nadir Tati.

The main problem is the lack of an up-to-date textile industry. "About 80 % of the fabrics, zips, buttons and other things I use for my designs are imported," Tati explains. Poor power supply and the lack of well-trained staff matter too, hampering the production of large quantities. An­other obstacle is imports of second-hand clothing. Not only used mass-produced goods, but designer items too are offered at low prices, so second-hand sales limit the marketing scope for African designers.

Despite such challenges, industry analysts anticipate Africa's fashion sector to expand. Many sub-Saharan countries have recently had solid economic growth. Experts expect the rising purchasing power of middle classes to fuel demand. McKinsey, a consultancy, reckons that Africa's consumer industries will grow by $ 400 billion by 2020.
Diana Opoti, a Kenyan TV host, firmly believes in the economic potential of the fashion industry. "There is a lot of talent, and people have become more aware of the diverse range of African clothes that are available. I expect the fashion industry in Kenya to grow, considering the growing numbers of designers and retail space." Opoti has explored the fashion industry in many countries. She is currently producing a TV programme on fashion that will be broadcast Africa-wide and in London.

Rising labour costs in China show that the outlook for the African apparel industry is improving, as experts argued at Source Africa 2013, a trade fair for the textile and apparel sectors in Cape Town. "Despite serious barriers that need to be overcome, there have been enormous improvements in transport, equipment and stitching quality in Africa," says Matthijs Crietee of the International Apparel Federation which is based in the Netherlands. Africa could also benefit from the quantity and quality of cotton that grows south of the Sahara, he adds. Many international brands are working on new sourcing strategies that will rely on production in other countries than China – and most African countries fit into the "new" category.


Ethics matter

Furthermore, African designers are increasingly creating fashion according to sustainable standards. Fashion designer Josephine Kyomuhendo from Uganda uses traditional production methods and eco-friendly fabrics such as barkcloth, organic cotton and silk. Clothes for her label José Hendo are made without metal or plastic components.

Internationally, the demand is growing for goods that are produced according to social standards and fair-trade prin­ciples. The African fashion sector can benefit from this trend. The Ethical Fashion Initiative connects artisans in developing countries with big players of the world market. The Initiative is run by the International Trade Centre, which is a joint agency of the UN and the WTO. Nearly 7,000 artisans have been involved so far. Most of them are women from Kenya, Uganda, Mali, Burkina Faso, Ghana and Haiti. Top designers such as Stella McCartney and Vivianne Westwood support this approach.
Griet Newiger-Addy