Social enterprises
Finding finance
Many social entrepreneurs have difficulty securing sufficient capital to finance their business ideas. Conversely, investors willing to invest in social enterprises often fail to find partners that meet their criteria and expectations. A report by the Siemens Stiftung flags up ways to help bring the two sides together.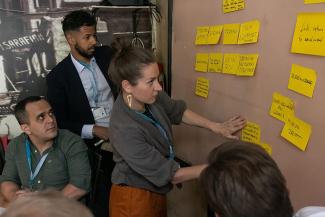 Siemens Stiftung
From new rural transport options to better marketing for small farmers, to digital health advice services – social enterprises are active in all sorts of areas around the world. Social entrepreneurs have a dual aspiration: to drive forward societal change and at the same time run a profitable business. In the launch phase especially, however, they often find the task of raising enough capital a significant challenge.
"In general, I think we all agree that, hypothetically, there is enough money in the market to invest in social entrepreneurs. And there are hundreds of thousands of entrepreneurs who need money. There is a mismatch of two parties who are somehow not able to find each other and to work together." This view was expressed in an interview with Siemens Stiftung by Franziska Reh of Uncap – Unconventional Capital, a start-up offering innovative finance for young entrepreneurs in sub-Saharan Africa.
The reasons for the disconnect are legion. According to Patricia Jumi, managing director of GrowthAfrica, founders of a new business have difficulty presenting themselves and their ideas. GrowthAfrica supports young entrepreneurs in Africa. Many foundations run programmes to help hone entrepreneurs' skills. In many cases, however, funding fails simply because the entrepreneur in South Africa and the German investor never meet. Social entrepreneurs are not yet well enough known to gain attention in a different continent. Other hurdles include cultural differences and poor investor understanding of markets and their potential.
"Investors have their own criteria of what they mean by investment readiness, (…) It almost feels like it is based on some hidden criteria which is probably more based on gut feel. This causes confusion between the investors and the entrepreneurs," Jumi explained to the Siemens Stiftung interviewer. Reh and Jumi were two of more than 40 participants in the Innovative Financing for Social Entrepreneurs round table organised last July in Cairo by Siemens Stiftung and its non-profit partner enpact. The focus was on standardised solutions for investors. Searching for a hand-picked social entrepreneur is an inefficient and expensive task for any investor, so standardised solutions are seen as the way forward, potentially facilitating large-scale social change.
The participants particularly identified the massive potential of digital platforms. Online matchmaking sites could partly automate the process of helping social entrepreneurs and investors to find each other. This would make investors' due diligence processes more effective and cost-efficient. Ideally, preliminary screening of suitable candidates would be based on an evaluation of facts and figures and not on vague preconceptions. However, platforms based on machine learning require large data sets, which are not available in every country for every sector.
Another innovative option could be financing vehicles that pool capital from different sources and allocate it to social entrepreneurs in tailored packages. The needs of an agricultural enterprise, for example, differ from those of an enterprise operating in the health sector. According to the Siemens Stiftung report, such pools could be created with a focus on a particular region or sector. They would thus attract investors seeking specifically to create impact in that area. This form of financing could also be helpful for many foundations, which are often bound by rules that make it difficult for them to invest in social enterprises. According to the report, however, foundations in particular should use their standing to attract more private capital for blended finance.

Link
Siemens Stiftung, 2019: Innovative financing for social entrepreneurs. Results and reflections from the round table in Cairo.
https://www.empowering-people-network.siemens-stiftung.org/fileadmin/user_upload/Publications/SiemensStiftung_Report_Round_Table_Cairo_2019_SCREEN_final.pdf