Private education
Why Nigerians have little faith in government-run schools
Disappointed by government-funded education, Nigerians increasingly turn to private schools. But not everything on offer is up to standard.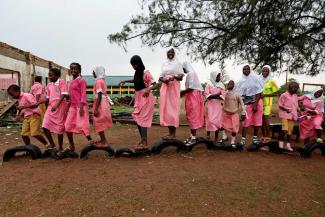 picture-alliance/REUTERS/Temilade Adelaja
Olufemi Olajide is used to spending almost 80 % of his salary on tuition fees for his three children. He does not want to send his kids to a public school "where 100 or more students fill up a class and only one teacher is allocated to them". After losing his job in the current economic crisis, his big worry is how to keep paying for his children's education.
Olajide belongs to a upper middle-class family and says that he went to public schools himself. Back then, however, private schools had not taken off, and public schools were in better shape than today.
His loss of faith in Nigeria's public school system is neither unique nor new. People largely agree that it is underfunded and mismanaged. Buildings tend to show a great need for investment.
Expensive investment in children's future
Most Nigerians now see spending on private education as an investment in their children's future. Many are prepared to invest a large share of their income. For religious reasons, some parents prefer faith-based schools.
The law states that primary education is compulsory and free in Nigeria. Nonetheless, experts reckon that only about 60 % of children aged six to 11 regularly attend primary schools.
According to Statista, the country had about 117,000 elementary schools in the school year 2018/2019, of which 62,000 were state-owned and 55,000 were private. Before the pandemic, private schools seemed to be mushrooming everywhere in Nigeria. Many of them, however, shut down again permanently during Covid-19 lockdowns. In the lack of resources, others are still struggling to bounce back. However, business activity has begun to expand again, and private education is picking up too.
There are many different schools of different affordability, catering to different groups of people. The private schools that poor families can afford obviously are far below the standards of the expensive facilities that rich people rely on.
The best ones are well-equipped and properly staffed. They have state-of-the-art science labs, libraries, sports facilities, swimming pools et cetera. They offer courses in many different subjects, including information technology, music and art. The teacher-student ration is good.
An educator's assessment
Adunola Adebote is an educator who has worked as a teacher, counsellor and director for both public and private schools. She says that high academic performance is typical of good private schools, for example, because students are encouraged to take part in competitions. Scholarship opportunities open up for brilliant students. Moreover, various kinds of skill training promote children's development. During the pandemic, they ran online classes, with prosperous students having the needed IT devices.
In Adebote's experience, it also matters that parents get a say in what their kids do at school. "Sending your child to a private school makes you a partner in progress," she says. Safety measures, such as security officers at the school gates, are appreciated too.
Such schools, however, charge high fees. Otherwise, they could not accomplish their goals. Not only public schools typically lack that financial capacity. Many private schools do so too.
Indeed, some enterprising people have turned dilapidated or uncomplete buildings into low-cost private schools. Teachers there are typically not trained professionals. The quality of education can be so low that some state governments have been threatening to shut down schools that are not registered, do not follow official curricula, disregard safety standards or neglect other public norms.
Parents nonetheless tend to consider these schools to be superior to public ones. To some extent, deprived communities have started self-help schools, which do not exploit parents' anxiety. However, they obviously cannot compete with expensive private schools.
Adebote considers the proliferation of sub-standard public schools a serious problem. In her eyes, it is a government duty to regulate schools and improve education. Some policymakers share her view. The legislative assembly of Lagos State recently insisted that Governor Babajide Sanwo-Olu must ensure that private schools meet minimum requirements before getting approval.
Bimbola Oyesola is a Lagos-based journalist.
oritokeoyee@gmail.com