Public administration
Digitisation of government services should focus on people's need
Done well, e-government can improve services for citizens while also making the jobs of public officials easier. Two countries that have set up useful web portals for dealing with government agencies are Kenya and Malaysia.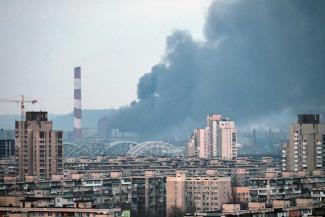 picture-alliance/Photoshot
E-government, the shifting of government services previously done face-to-face onto internet platforms, has the potential to improve citizens' experience when interacting with government agencies. Making certain aspects of public administration possible via an app on a smartphone or through a web browser on a laptop also comes with gains in efficiency.
However, one needs to clarify what is meant by "efficiency" and who exactly is supposed to benefit. Is efficiency a function of time, which citizens spend less of when they deal with government agencies remotely? Or is it about cost savings in public administration? In a democracy, citizens' experience should obviously matter most.
Better, not cheaper services
Done well, e-government can improve services for citizens while also making the jobs of civil servants easier. The efficiencies are felt when citizens file taxes, apply for a driver's license or register children for school without having to go to office. For civil servants, the time freed up from doing routine tasks face-to-face can be invested in engaging with more complex requests that require a human touch.
In Germany, for example, e-government could add value in the administration of the immigration services. In many localities, all services require an in-person appointment, including new residence permits, asylum applications and visa extensions. An e-government portal would be useful for managing comparatively simple tasks like visa extensions for foreign residents. Caseworkers would then have more time to focus on complex cases like asylum requests.
It is important to notice what is not happening in the example above. For two reasons, there is no mention of saving money:
First, high-quality e-government platforms are not cheap to build and maintain. The complexity of public administration does not go away when it is digitised, and badly designed e-government platforms just create new layers of frustration. In countries with great resource constraints, malfunctioning e-government approaches may even increase stress among staff and distract from delivering citizen-facing services. That is especially likely at the municipal level.
Second, e-government should not replace human workers, but supplement civil servants in ways that reduce their routine work and allow them to focus on more challenging tasks.
E-government in practice
To understand e-government better, it should be seen in practice. Here are some examples from Africa, Asia and Latin America.
Fairly straightforward national e-government portal systems are increasingly common in middle-income countries. Kenya's "eCitizen" portal includes standard services like requesting an ID card, marriage registration, land registration and tax issues, and drivers' license applications. Malaysia's "MyGOV" portal functions similarly, allowing citizens to register for school, marriage, file taxes and access health-care systems among other things. These are examples where standard citizen-government activities like individual citizen services and tools for businesses are centralised through a single web portal.
Togo, a least-developed country, introduced a basic minimum income during the Covid-19 pandemic. Applications and disbursements were made by mobile phone.
The Colombian project Kioscos Vive Digital is being implemented by the Ministry of Information and Communication Technologies and supported by UNESCO (UN Educational, Scientific and Cultural Organization). It is a creative bottom-up approach of digital citizen engagement. It allowed people from many different communities to share online how they use the internet in general and in exchange with government agencies in particular. The idea was to understand different internet cultures across Colombia and to generate locally-specific insights regarding how to improve things.
Donor agencies' interest in e-government
E-government systems are also being implemented in extreme political circumstances. Ukraine's Diia is a mobile phone-based portal that citizens can use to access government ministry services. This is taking place in the backdrop of a war of aggression, with large-scale infrastructure being targeted by Russia. In this setting, a decentralised system based on mobile phones serves practical needs.
There are political implications too. Western governments are supporting Ukraine with funding and military equipment, and they insist on transparency and anti-corruption measures. E-government systems can address such concerns, if designed and implemented well.
This is one reason why bilateral and multilateral development agencies are interested in e-government. Indeed, USAID, the US administration's bilateral agency, is supporting Diia in Ukraine. Germany's GIZ is currently supporting a programme in Egypt to create comprehensive e-government with funding from Germany's Federal Ministry for Economic Development and Cooperation (BMZ).
Both USAID and GIZ tend to focus on tools that meet citizens' needs, so programmes and systems are designed accordingly. The idea is to improve government capacities on that basis. There is a need to balance in-house capacities within public institutions and assigning software companies to adapt programmes or develop new ones.
An important component is the role of continuously evaluating political context that an e-government system will be deployed into. A government's respect for human rights, privacy and transparency all have a significant effect on whether e-government improves or impinges on citizens' quality of life. Where democratic rule is not in place or looks shaky, it may be difficult to determine what kind of e-government project to support. More generally speaking, e-government approaches will deliver the best results where people trust government institutions. Where they fear repression, they will reduce contact to the bare minimum and be tempted to enter wrong information.
Multilateral agencies also play a supporting role in creating and deploying e-government strategies. The World Bank's Information Solutions Group oversees the e-government advisory practice and provides advice on integrating digitised solutions into government procedures and management of the economy. The model is built around consulting and knowledge sharing, helping partner countries to identify needs, organise financing and integrate new technologies into government procedures.
Along with advice, the UN provides a global monitoring service that tracks the state of e-government in member nations. The UN E-Government Development Index (EGDI) provides cross-national comparative data.
Making sure e-government remains citizen-centric
E-government can significantly improve the relationship between people and government agencies. What matters most is to make sure that the services are citizen-centric. It is necessary to build fully inclusive systems. E-government investments must not come at the cost of maintaining in-person services for those who need a new paper document or who do not have internet access. On the other hand, e-government solutions look particularly promising in developing countries which do not have the legacy systems of public administration that mark countries in the global north. Where public services are poor, digital technology can improve matters fast.
In Kenya, for example, marriage registration is one of the top-line services one sees when opening the eCitizen website. Marriage may not be high on donor governments' agenda. It matters very much for a Kenyan couple in a rural area, since a viable e-government solution means it must not make an inconvenient trip to the nearest town.
Charles Martin-Shields is a senior researcher at the German Institute of Development and Sustainability (IDOS) in Bonn.
charles.martin-shields@idos-research.de