Emergency response
Communicating in humanitarian crises
When disasters hit, emergency aid usually means the provision of food, water, shelter and medical care. But people also depend on reliable information – they need to know where they can be safe, whether their families are alive, and how they can receive help.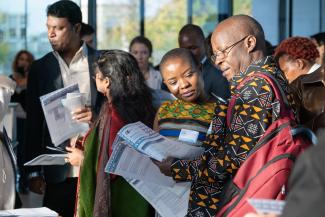 Philipp Böll/Deutsche Welle
War, natural disasters, forced displacement, persecution – there are many reasons why people have to flee their homes, and often even their home country. Most displaced persons lose everything they have and suddenly depend on outside help. Getting food and shelter is essential, but people need more. They need timely, accurate and reliable information; otherwise, they are often unable to access the help that is offered. Moreover, they need to be given a voice to express their needs and desires. Unless they are empowered to contribute to solving the humanitarian problems, those problems are likely to fester.
However, humanitarian agencies have strategies for addressing these issues. "Communication and community engagement" (CCE) is increasingly being recognised as a necessary and integral part of any humanitarian intervention. Forced migration is often closely tied to humanitarian crises. Both scenarios require CCE. It is as important as delivering food, clothes and medication, not least because it facilitates access to such supplies. Feedback from people in need helps humanitarian agencies to operate more effectively.
The international network "Communicating with disaster affected communities" (CDAC) is a platform of more than 30 organisations involved in humanitarian aid, media development, social innovation, technology and telecommunication. It is "dedicated to saving lives and making aid more effective through communication, information exchange and community engagement". CDAC promotes up-to-date CCE. Members include the International Committee of the Red Cross (ICRC), the UN Children's Fund (UNICEF) as well as BBC Media Action and DW Akademie.

Choosing the right language
There are many aspects to communication. One is often overlooked: language. People who flee their country often end up in places where they don't understand the local language. They can neither communicate with their new neighbours nor with aid agencies. These international organisations often assume that refugees will speak a local language, but that is not necessarily so.
Translators without Borders (TWB) is a non-profit organisation that offers language and translation support for aid agencies and other non-profit organisations internationally.
"Language gaps hinder critical humanitarian interventions," says Mia Marzotto, one of its senior advisers. She insists that both refugees and aid agencies need two-way communication.
One example where TWB intervened successfully is the Rohingya crisis. When the ethnic and religious minority Rohingya was expelled from their homeland Myanmar in 2017, hundreds of thousands fled across the border to neighbouring Bangladesh. The Rohingya language is closely related to Bengali, but the assumption that the refugees would understand the dialect spoken in the Chittagong region, where they fled to, was wrong. It turned out that most of the Rohingya refugees did not even understand basic sentences in Chittagonian. This is where Translators without Borders stepped in. "Information in the wrong language is useless," Marzotto points out.
Any information addressed to refugees must use the languages that prevail amongst them. "Handbook Germany" is an award-winning project that runs a multilingual website. It uses English, Arabic, Persian, German, Turkish, French and Pashtu, providing recently arrived refugees with everything they need to know about their new host country. It includes information on rights, laws, education, health and insurance, for example. All refugee facilities in Germany use "Handbook Germany".
Mahdis Amiri is a Berlin-based Iranian journalist who works for "Handbook Germany". "We want to cooperate closely with our target group – recently arrived refugees," she maintains. The website is designed for smartphone use and compatible with popular social media platforms. "We also use videos to create easily accessible information," Amiri explains.
So far, humanitarian and media organisations have often worked alongside one another in disaster situations, but they rarely discussed how to cooperate best. To improve matters, DW Akademie recently convened an international conference in Bonn. Participants came from 24 countries, and the motto was: "Beyond the crisis: communication, engagement and accountability in forced migration settings."

Exiles and international efforts
Shakila Ebrahimkhil is a well-known Afghan journalist living in exile. At the conference, she emphasised that the perspective of refugees is very important. "I never wanted to leave my country," Ebrahimkhil recounts. But in 2016, a Taliban attack killed seven of her young colleagues and wounding 25 others. Ebrahimkhil was under such serious threat that she had to leave Afghanistan. With her three children, she embarked on the dangerous trip to Europe. She knew about refugees drowning and being victimised on this journey, but she says: "I had to accept those dangers, because there was no other choice." In Hungary, she and her children were imprisoned by the border police. When the police handcuffed her two underage children, Ebrahimkhil pleaded with them: "Migration is not a crime!"
People who are literate like Ebrahimkhil are aware of how risky fleeing is. They can access relevant information, for instance on social media platforms. Illiterate people cannot do so. Ebrahimkhil explains, however, that even if they get reliable information, they will flee because the only alternative would be to return into the war they desperately want to escape. More than 6 million Afghans were displaced, she says.
Once refugees reach another country, they urgently need information about their new home and where to get help. However, it can take years before well-functioning communication channels are established for them. That is even the case for the UN Refugee Agency UNHCR, admits Jerome Serengi, who works for the UNHCR in Lebanon. Serengi set up a network of communication between his agency and Syrian refugees in Lebanon. It is a big advantage that all relevant parties speak the same language – Arabic. However, there is a lot of movement between places, with newcomers constantly arriving, so "it is not easy to make sure that people receive all necessary information," Serengi explains. On the upside, he is proud of the communication channel in Lebanon being decentralised and two-way. "We want to know what they need," he says.
International organisations like UNHCR play a central role in the implementation of international agreements like the "Global Compact for Safe, Orderly and Regular Migration" (GCM). It was concluded multilaterally in 2016 and is the agreement covering all dimensions of international migration in a holistic and comprehensive manner. It is supposed to:
support international cooperation on the governance of international migration,
provide a comprehensive menu of options for states so they can select policies to address some of the most pressing issues, and
give states the space and flexibility to implement policies according to their specific realities and capacities.
At the conference in Bonn, participants agreed that getting communications and community engagement right is a crucial component of managing migration. The topic deserves further attention, with a particular focus on involving migrants and refugees in assessing situations and finding solutions.
According to Marian Casey-Maslen, the executive director of the CDAC network, "we need to push the role of media development in the context of forced migration". She says, the international community must benefit from the enhanced connectivity of the digital age.

Links
Communicating with disaster affected communities (CDAC):
http://www.cdacnetwork.org/
Global Compact on Migration:
https://www.iom.int/global-compact-migration
Translators without Borders:
https://translatorswithoutborders.org/
Handbook Germany:
https://handbookgermany.de/en.html