Refugees
Stop double standards in EU refugee policy
Arabs are upset about Europe. The EU is welcoming refugees from Ukraine with open arms, but it also does what it can to keep people who are fleeing wars in other parts of the world away from its borders. The suffering in Syria, Afghanistan or Yemen is just as bad as it is in Ukraine, so it does not make sense to treat people differently. Doing so thus reveals deep-rooted racism.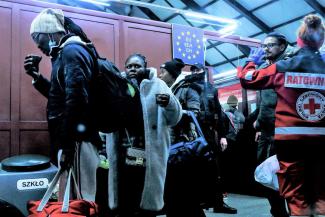 picture alliance / NurPhoto / Beata Zawrzel
In the first days of the Ukraine war, outrageous statements made by journalists from western media spread fast on social media in the Arab world region. They caused an uproar. The reason was that the quotes expressed racist attitudes, showing that the journalists had failed to adhere to professional standards of unbiased reporting.
For example, Charlie D'Agata, who works for CBS, a major TV network in the USA, expressed his shock that something so brutal was happening in Kyiv, a "civilized European city", rather than in Iraq or Afghanistan, two countries that have suffered decades of  war. Other reporters pointed out that refugees from various Ukrainian cities looked like middle-class middle Europeans with Christian backgrounds and not like Syrian refugees (also see Vladimir Antwi-Danso on www.dandc.eu).
The journalists later apologised, but their message had spread. The implication was that suffering, strife and flight are considered to be normal in the Middle East and other parts of the global south, but not in Europe or North America. People in Afghanistan, Syria or Yemen long for nothing more than peace and security. In their perspective, these reporter statements only added insult to injury.
People in Arab countries also notice that many non-Ukrainian refugees from Ukraine were not welcomed in the same friendly way. Several cartoons in Arab media dealt with how people fleeing the same war were treated differently. People with light complexions are welcome in the EU. People with darker skins are not.    
One cartoon showed a border crossing with the blue EU flag. There are two entry points, marked by colour. The gate marked with the light colour is open, the one with the dark colour is closed. The headline reads: "Refugees from Ukraine".
The EU has responded fast to the war, deciding to accommodate fleeing Ukrainians and offer them personal prospects in their host countries. That includes the right to stay, educational opportunities and work permits. This approach is commendable, a sign of great solidarity. Ukrainians are spared the long and stressful asylum procedures that people must endure after crossing the Mediterranean and reaching the shores of Spain, Italy, Malta or Greece. Moreover, the way civil society is becoming engaged in European countries is impressive too.
But why where things different in 2015? Why have they stayed different since? Hundreds of thousands fled war in Syria and other countries. Others tried to escape the impacts of climate change and poverty. Quite clearly, skin colour and religious faith make a difference. Double standards mark Europe's approach to refugees. Yes, there was a welcoming culture in Germany and Sweden in 2015, but it faded after a few months. Presumably, the EU will stay prepared to take in people from Ukraine for a longer period of time, though that remains to be seen.  
How do we deal with the bitter truth in a constructive manner? It would be wonderful if Europe's current unity and policy towards Ukrainians would set the example in future crises. Everyone who is in desperate need quite clearly deserves support and protection – regardless of where they come from and what they look like.

Mona Naggar is a freelance journalist based in Beirut.
mona.naggar@googlemail.com