Women's empowerment
Climate justice requires gender justice
The climate crisis is one of the greatest threats humankind is facing. It is not gender neutral, so the response cannot be gender neutral either.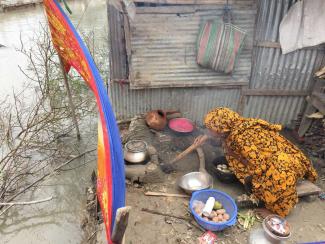 PC Shahin Alom
Climate change is exacerbating existing inequalities. Women and marginalised groups bear the brunt, but get the least support. The climate crisis is causing losses and damages at an alarming rate. It is also compounding other destructive trends such as desertification and the erosion of ecosystems, leading to further and more intensified losses and damages.
The frontline communities are the first ones to face such impacts. So people are at the heart of climate crisis as well as climate resilience. The impacts of global heating affect women and men differently. Women's interests thus deserve explicit attention in decision making and implementation processes. In developing countries, women tend to depend particularly on natural resources. At the same time, they are too often neglected in public affairs and suffer most in times of crisis. Capacity building is needed to empower them to become more actively involved.
In several areas, adaptation success depends on taking a gender-inclusive approach:
Resources: Women and girls often face barriers to accessing resources, including land, finance and technology, and that limits their individual adaptation options.
Safety: Women and girls are often at a greater risk of violence, particularly in contexts of displacement and migration.
Health: Environmental change can exacerbate issues of female hygiene and health issues, in particular when safe water becomes scarce.
Economic opportunities: Climate change disrupts livelihoods, especially in rural areas where people depend on natural resources. Women and girls are affected in particular. More generally speaking, women's economic opportunities tend to be more limited than those of men – and that is particularly true in climate-vulnerable developing countries.
In spite of many difficulties, women are often agents of change in their communities. They play a crucial role in responding to the impacts of climate change and promoting sustainable development.
Consider the example of Tengarkhali, a village in southwest Bangladesh. It was often inundated with sea water, and increasing salinity reduced people's access to safe drinking water. For 20 years, Gita Roy and other women from her village in Bangladesh's Satkhira district, campaigned to convince villages and elders that reverse osmosis was the solution to their water scarcity problem. With the help of Water­Aid Bangladesh, the women of that village themselves now run the Moricchap Drinking Water Plant and have successfully tackled one of the lasting impacts of climate change.
To fully empower women, one must address cultural barriers and create an enabling environment. Core issues include:
Improving women's access to resources such as land, finance and technology, to boost their standing in their communities.
Investing in girls' education as well as capacity building and skills training for women, further empowering them to participate in public affairs.
Encouraging such participation, in particular regarding issues relating to environmental change and other gender-­sensitive issues.
Mainstreaming gender-sensitive approaches in adaptation and mitigation measures.
Women's knowledge can play a critical role in responses to climate change. Their leadership is needed. National as well as international actors have a responsibility to empower women. Support is needed not only in financial terms. Education, capacity building and encouragement matter too.
Climate finance should be mobilised in a gender-sensitive manner and take into account all dimensions of gender justice. Without gender justice, there can be no climate justice.
Nusrat Naushin is a researcher at the International Centre for Climate Change and Development (ICCCAD) in Dhaka. She coordinates its Loss and Damage Programme.
nusrat.naushin@icccad.org
Maliha Masfiqua Malek is also a researcher at the ICCCAD.
maliha.malek@icccad.org