Shift in values
Sacrifice instead of careerism: How Gen Z wants to work in the future
Generation Z – the demographic cohort born between 1997 and 2012 – takes a different view of the world of work than the generations that preceded it. This is transforming the occupational landscape of the development sector.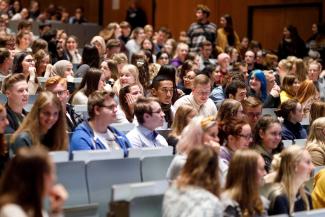 picture alliance / Geisler-Fotopress / Christoph Hardt
Many members of Generation Z no longer view their working life as a career path that they will one day be able to look back on with pride. On the contrary: careerism and high salaries are out. The opportunity to strive for career success or financial reward is seen as a privilege for which there is no valid justification in the world of development work.
Employment – of any kind – is defined by Generation Z as "wage labour", which can only be considered valuable as part of a meaningful work-life balance. Personal overloading is not priced in. The pride in a 60- or 70-hour week sometimes felt by members of the previous generation meets with incomprehension and rejection from Gen Z representatives.
Consequently, young people today prefer to opt from the outset for part-time work, for example within the framework of a four-day week. The present shortage of skilled workers plays into their hands here, frequently enabling them to push through such demands.
Voluntary sacrifice of prosperity
For Gen Z, the single breadwinner supporting a nuclear family is a long-obsolete model. Family structures today are highly diverse; it is taken for granted in this generation that singles are financially responsible only for themselves or that at least two adults, regardless of    gender, contribute to a family's income.
Generation Z is relaxed about the prospect of sacrificing prosperity as a result of these attitudes. Indeed, young people see that sacrifice as a necessity, because they anticipate an inevitable loss of prosperity in the longer term. But that is not to say they see a bleak future. They subscribe to the growing conviction that less prosperity will have positive impacts on the planet and humanity.
Frugality, sensitivity and self-discovery – Gen Z sees these as vital elements of a successful working life. Paralleling that belief is the generation's different understanding of poverty and how to fight it: industrial economies' prosperity is no longer regarded as a model for the rest of the world (see main article). On the contrary, the perception is that for the Global South to stand a chance of lifting itself out of poverty, the industrialised world needs to reduce its resource usage.
Susanne Neubert is an agricultural economist and has been a member of the board of directors of the Centre for Rural Development at Humboldt University in Berlin for eleven years.
susanne.neubert@agrar.hu-berlin.de
Miriam Holländer is a social scientist and heads the International Cooperation for Sustainable Development programme at SLE.
m.hollaender@hu-berlin.de