Cassava
The little tuber that could
The humble cassava – a long tuberous starchy root that must be cooked properly to be eaten safely – is getting new respect as a driver of agricultural development.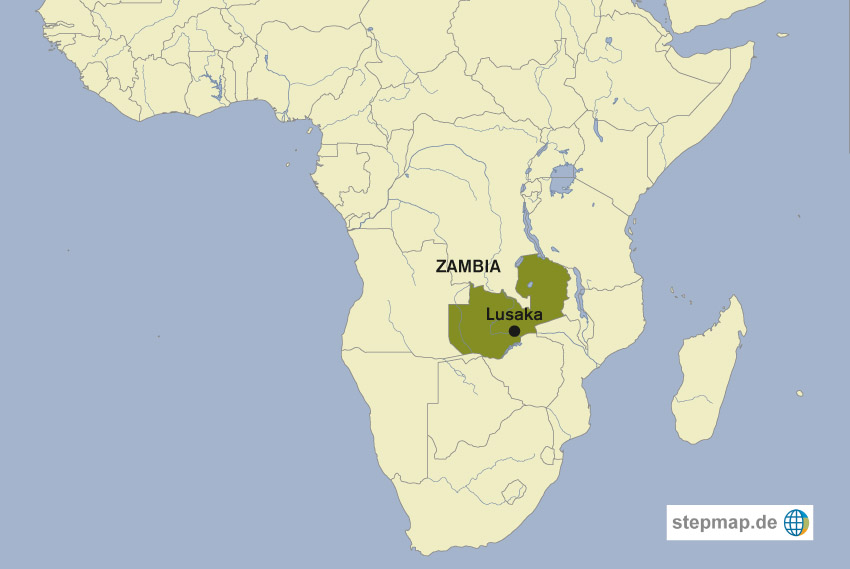 stepmap.de
Cassava is Zambia's second largest agricultural crop, after maize. Unlike maize, however, it does not require a lot of water – a big advantage in the drought-prone country. So the government and development organisations have launched efforts to find new markets for the tuber, in hopes that more of it will be grown.
Those efforts are paying off, and the solution is coming from an unexpected source: manufacturers. While household demand for the vegetable has been stagnant, industries making a variety of products – from starches and flour to prepared foods and beer – have been signing up to buy large quantities of cassava.
One such firm is Premiercon Starch Company, a local start-up producing starches and flours. Among other products, it turns cassava into a starchy feedstock that it sells to mining companies, which in turn use it to process minerals. The company has contracted with the Kalumbila Copper Mine to supply 7,000 metric tonnes of industrial starch per year.
Zambian Breweries, a locally owned firm that brews lagers and is a major bottler of Coca-Cola, is another firm that has signed contracts to buy large lots of cassava. The company buys dried cassava chips from smallholder farmers, processes the chips into flour and fermented cassava starch, and uses those as ingredients of its Eagle Lager beer.
Zambian Breweries wants to ensure a continued supply of cassava. So it has recruited 5,000 farmers to grow on average one hectare of cassava each, with assurances that it will buy their produce.
From the farmers' perspective, the newly opened industrial markets solve a big problem. For example, farmer Amos Samapaze of North-Western Province found he could not rely on selling cassava to nearby villages, as demand was unpredictable and poor roads often impeded access.
"I started cultivating cassava when I lived in Lukulu district in Western Province," he says. "I owned oxen, an ox-cart and a plough. But the lack of market in the area discouraged me; the produce would sometimes go to waste."
The new industrial demand, in contrast, encourages some farmers to expand their operations. "I heard about companies supporting cassava farmers and decided last year to buy five hectares and produce cassava," says Cosmas Muleya, a father of five from Gwembe in Southern Province. "Since cassava is drought resistant, I believe it will do fine here. I expect to harvest more than 80 bags of 50 kilograms each."
Similarly, cassava farmer Ruth Chilenga started by selling cassava at Lusaka's Soweto market, but plans to expand both to export markets in neighbouring countries – mainly Angola and the Democratic Republic of the Congo – and to industrial markets in Zambia.
The new industrial demand for cassava has also created jobs for intermediaries between farmers and industrial manufacturers. Elizabeth Kunda buys dried cassava from farmers in north-western Zambia for resale in bulk to Zambian Breweries. Farmers can focus on producing cassava while she deals with the industrial clients, she says.

Derrick Silimina is a freelance journalist based in Lusaka. He focuses on Zambian agriculture and sustainability issues.
derricksilimina@gmail.com