National governance
The mismatch that compounds Pakistan's governance problems
Pakistan's military budget is huge, but its tax revenues are rather small. The mismatch contributes to the country's serious economic problems.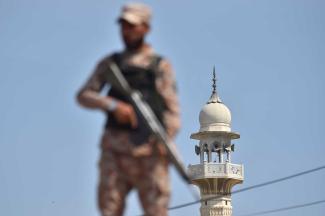 picture-alliance/EPA/SHAHZAIB AKBER
A major challenge is that the military spending is considered untouchable. The official reason is the "existential threats" Pakistan is supposedly facing. From independence on, leaders kept pitting this Muslim nation against India, the big and predominantly Hindu neighbour. The full story, however, is that the military is a very powerful institution. It not only has a decisive influence on politics, but, due to its many businesses, on the economy too. Pakistan has seen decades of military dictatorship, which, to a considerable extent, promoted aggressive identity politics.
Some people downplay the military spending and call it an inevitable externality. It is bewildering, however, that irrespective of the hardships that ordinary citizens face, incentives for the high-level military officers are never reduced. This aid-dependent country, moreover, found the means to build and maintain an arsenal of nuclear arms.
At the same time, Pakistan's ratio of collected taxes to gross domestic product (GDP) is very low at about an annual 10 %. Accordingly, the country's public services are quite poor. The supply of utilities such as electricity, water and gas is unreliable. Pakistanis generally do not feel supported by state institutions and, when in need, lack social protection. The increasing privatisation of education, health and security services does not help.
Ordinary citizens believe that the government and its agencies misuse tax money. They are aware of the "VIP convoys", which are made possible by public funding and block roads to people's inconvenience. Accordingly, tax avoidance is not considered a malpractice.
Pakistan's tax system is regressive moreover. Revenues are primarily generated via indirect taxes, which disproportionately hurt low-income households. Besides, a large part of the economy is informal, with small businesses and farms being neither registered nor regulated – nor taxed.
Sundus Saleemi is a senior researcher at Bonn University's Center for Development Research (ZEF).
sundus.saleemi@gmail.com