Megacity
How Nairobi fights its waste
For some time now, Kenya's capital and its huge metropolitan area have been engaged in an internal battle against waste. There is hope that the struggle will eventually be won.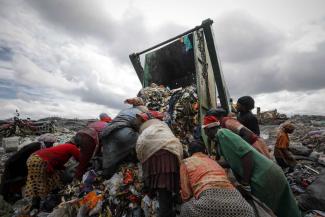 picture-alliance/EPA-EFE/DAI KUROKAWA
Greater Nairobi is one of the fastest growing urban areas in Africa. It has expanded to include parts of four counties (Kiambu, Kajiado, Machakos and Murang'a) adjacent to the capital, which together form the Nairobi metropolitan area. It is estimated that around 10.8 million people lived in the area in 2022. Rubbish is increasing proportionally with the population, exacerbating an old problem in the Kenyan capital. According to the World Bank, 2000 to 4000 tonnes of solid waste are generated daily in the Nairobi metropolitan area, disposed of by residents, industry and commerce.
The Nairobi Metropolitan Services (NMS) is at the forefront of the battle against these volumes of waste. This entity was launched in 2020 to make improvements and find lasting solutions that would help tackle some of the problems the city has been facing over the past decades.
More tangible measures were groundbreaking for Nairobi – for instance the introduction of door-to-door garbage collection by truck and subsequent disposal on various landfills. In addition, litter bins have been placed in most urban areas and street sweepers have been hired. They work both day and night shifts for a cleaner environment.
Although the new national government under President William Ruto has been vocal in its condemnation of many of the measures taken by the previous government, it has kept the NMS. The agency is cooperating closely with the capital region's new governor Johnson Sakaja. Ruto's government is continuing on the path of the previous government, advocating recycling and an end to plastic pollution.
Despite the constant efforts of the authorities, any visitor will still witness people throwing their rubbish on the roadside and into the gutters of the metropolitan area. Nairobi River has basically been reduced to a trickle containing plastic bags and bottles.
What makes waste management difficult is the sheer number of people living close together in the numerous slum areas in and around Nairobi. The rubbish dumps of Kangoki and Dandora are notorious – and serve as a workplace for countless informal waste collectors.
Waste collection as a patriotic act
It seems that the Nairobi agglomeration depends on people like Joseph Kirimi to become "great again". Kirimi is a community organiser in Juja, a typical suburban town on the outskirts of the metropolitan area. 
Kirimi works closely with the Juja sub-county government to ensure that rubbish collected from households and on the streets is diverted from landfills by waste dealers who are responsible for the disposal and recycling of certain waste such as bottles. There are now many companies all over Kenya that earn their money this way.
Kirimi views his volunteer work as a patriotic act. "It is everyone's responsibility to ensure that the waste they generate is disposed of in a timely and proper manner," he says. He adds that, in Juja and other constituencies, every household is entitled to at least five to ten plastic bags every month for their waste, which is then usually collected during the week. Unfortunately, this  does not apply to numerous informal settlements.
From time to time, district offices educate citizens about the importance of participating in waste collection and recycling. Local schools and community-based organisations organise workshops and litter clean-up days, mobilising young people in particular to collect waste in their area.
Kirimi says he sees a gradual change in people's mindsets: "Relevant actions are on the rise. People are recognising the urgency of the issue. I am very confident that we are on the right track in the metropolitan region."
Alba Nakuwa is a freelance journalist from South Sudan based in Nairobi.
albanakwa@gmail.com