Reconciliation
No justice without remembering
Cambodia's Khmer Rouge regime collapsed in January 1979. It left deep marks, having claimed an estimated 1.7 million lives. Thirty-eight years later, people are still seeking justice. To learn from history and cope with the trauma, Cambodians need documentation, memorialisation and reparation.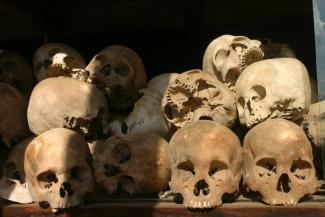 kd
Cambodians continue to suffer the impacts of their country's violent and traumatic history. Under dictator Pol Pot, who ruled the country from 1975 to 1979, most people became victims in one way or another. Many were executed; others starved. Forced labour and forced marriages were common. Masses of people were separated from their families.
In 1997, after years of inaction, the Cambodian government asked the UN to assist its efforts to put senior Khmer Rouge leaders on trial. Many hurdles had to be taken, and the Extraordinary Chambers in the Courts of Cambodia (ECCC) were only established in 2006. Cases are still being heard.
The Khmer Rouge Tribunal – as it is commonly known – offers survivors the opportunity to seek truth and justice by holding perpetrators accountable for their crimes. The goal is to ensure remembrance and prevent the recurrence of a genocidal regime. "The tribunal facilitates recon­ciliation and at the same time provides an opportunity for Cambodians to come to terms with their history," says Neth Pheaktra, a spokesman for the UN-backed court. He also points out that the special court serves capacity building and institutional reform in the sense of promoting national reconciliation and reaffirming the rule of law.
In November last year, the court upheld life sentences for two former top Khmer Rouge leaders. Ninety-year old Nuon Chea and 85-year old Khieu Samphan were found guilty of crimes against humanity. In another trial, both are accused of genocide of ethnic Vietnamese and Muslim minorities, forced marriage and rape.
So far, only one other Khmer Rouge leader has been sentenced. Kaing Guek Eav, alias Duch, was the chief of the notorious S21 prison in the capital Phnom Penh and oversaw 14,000 prisoners' death. He too was sentenced to life imprisonment.
Some key leaders have died and thus escaped justice. "Brother Number One" Pol Pot died in 1998. Ieng Sary, the former minister of foreign affairs and his wife Ieng Thirith, the former minister of social affairs, died in 2013 and 2015 respectively.
"Important mechanism"
Yun Bin, who is 62 years old, only narrowly escaped death under the Khmer Rouge. He was taken to a killing site, beaten with an axe until he was unconscious and then dumped into a well. Nonetheless, Yun survived. "In the well, I saw many dead people all around me. Their bodies were swollen and with worms," he recalls the past.
The Khmer Rouge soldiers threw a grenade into the well, he says, to silence the people who were not dead and screaming for help. The grenade did not injure Yun, and he managed to escape by piling dead bodies on top of each other. "I asked the souls of the dead in the cave to help me get out and promised to seek justice for them," says Yun. Now, he is involved in the court cases as a civil party with similar rights as the prosecutors.
Some ask whether the conviction of a handful of leaders is sufficient in the eyes of the victims. Chhang Youk, director of the Documentation Center of Cambodia, admits that the tribunal does not provide a comprehensive solution, but he considers it an "important mechanism" which reminds people of the need to respect human rights. "Cambodia is still haunted by the Khmer Rouge disaster. We are the children of both perpetrators and victims," he says. Chhang has spent 30 years collecting and archiving documents pertaining to the murderous regime.
The Documentation Center is run by an international non-governmental organisation (NGO). Its mission is to raise awareness and disseminate information about the Khmer Rouge. The Center is also the place to look for information concerning lost family members. According to Chhang, it has collected around 1 million names. "We are reaching out to people in the provinces who are still looking for lost family members and find it hard to travel to the city," he says.

Trauma and healing
Bin has been diagnosed with trauma due to his past sufferings. "I still remember everything, and it seems to appear in front of me all the time. I cannot forget it, and it makes me sick," he says. "I take medicines everyday." Yun gets help from the Transcultural Psychosocial Organization (TPO), a local NGO, which is supported by GIZ's civil peace service (see article on the matter).
TPO has been working closely with the Khmer Rouge Tribunal since 2007. It supports witnesses and civil plaintiffs who are affected by trauma. TPO sees trauma recovery and reconciliation as long-term processes that require more than just retributive justice.
Bun Lemhuor, the NGO's clinical psychologist, explains how TPO helps witnesses deliver testimony: "We provide help to relieve their psychological pressure. We also accompany witnesses to court if they have strong emotions when giving testimony."
There are self-help groups for people affected by trauma. "We let them share their suffering and use some methods to relieve their trauma," Bun says, adding that religion can also help to find peace. "They pray to Buddha for the dead, asking not to take revenge." According to Bun, the tribunal recognises TPO groups as one way of rehabilitating and compensating victims.

Collective compensation
The court has a Victims Support Section (VSS). It facilitates Khmer Rouge victims' meaningful participation in the legal proceedings. According to Hang Vannak, who heads the VSS, some 4,000 civil parties and 4,000 complainants are involved in Case 002 which concerns Nuon Chea and Khieu Samphan. "We inform them in forums, workshops and training," Hang says.
The VSS also coordinates reparation seeking through legal and non-judicial measures. "We also work with them to design and implement projects of reparations and non-judicial measures that benefit them and the young generation." The VSS only provides moral, collective reparations, not individual ones. It works with both government agencies and civil-society organisations to establish memories, compiling stories of survivors and building memorials.
"What the tribunal is doing is regarded as a healing process rather than an ultimate solution," Hang says. "The court alone cannot make transitional justice perfect." In his eyes, healing must be holistic and has many aspects, including psychology, education and health.
Initially, the Khmer Rouge Tribunal was meant to last only a few years. Currently, Case 002 is still ongoing, and so are Case 003 and 004 in which four other Khmer Rouge leaders are accused. Nobody knows how long the proceedings will take. It depends on how much time investigators need to collect evidence, how many more people are put on trial, how many witnesses are called and how many appeals are made. Cambodia's government has announced it will establish a Legal Documentation Center as a "repository", where soft and hard copies of the court documents will be kept.
Chhang hopes that once the Tribunal concludes its work, the King as representative of the Cambodian people will cremate the bones of the Khmer Rouge victims. It would be a major national ceremony. "And there should be a day for national commemoration. That would be a big symbol after the court finishes its work," he says.

Sun Narin is a Cambodian journalist and lives in Phnom Penh.
snnarin@gmail.com