Peacebuilding
A historic first
Liberia's new Land Rights Act explicitly protects customary land ownership. This reform should help to stabilise peace and can prove to be a game changer. Civil-society organisations have played an essential role in drafting the new law.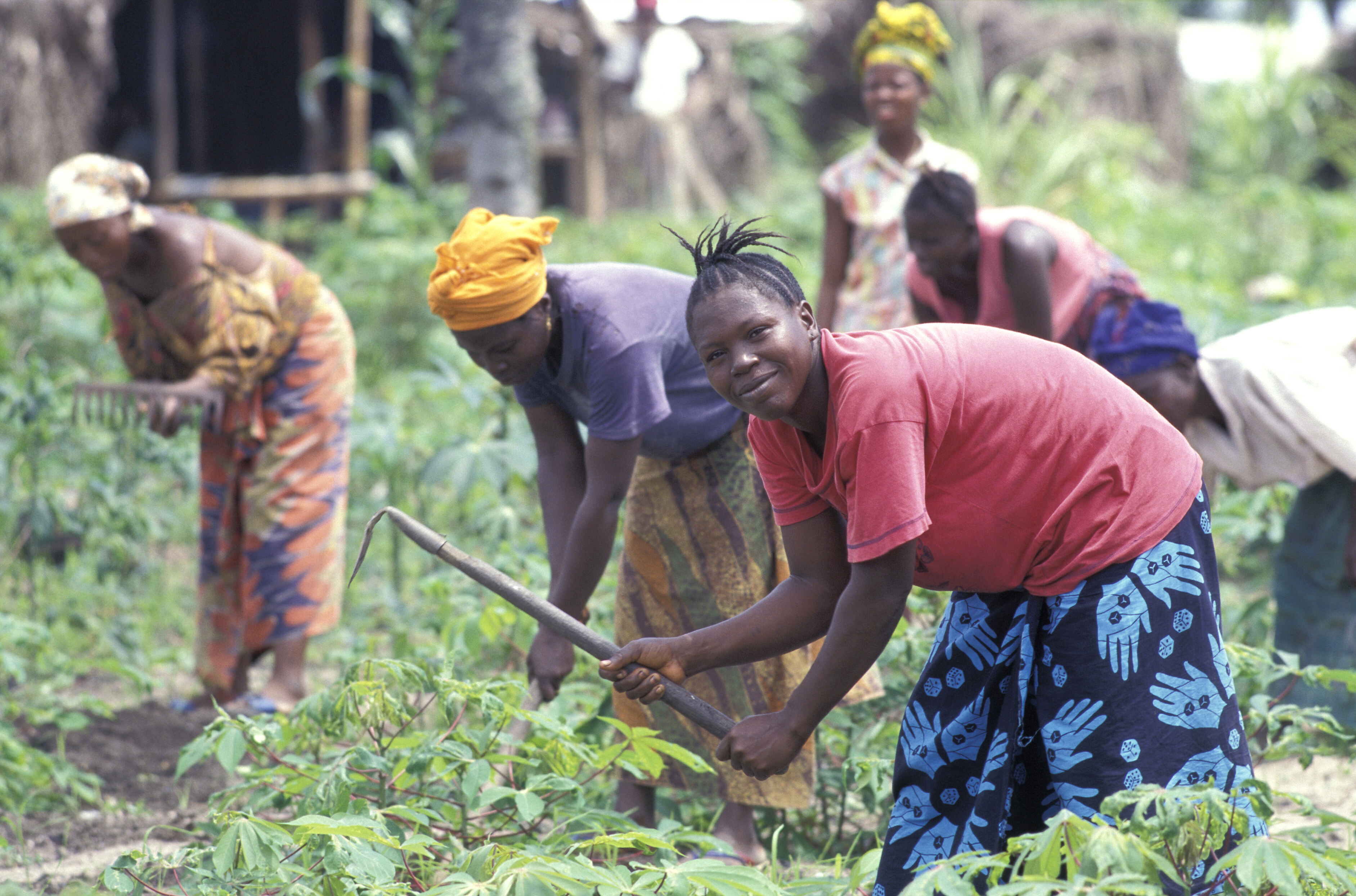 Ron Giling/Lineair
After it was passed by the country's Senate and House of Representatives, Liberia's President George Weah signed the Land Rights Act into law in September 2018. It is the result of a long legislative process. The major challenge was to take into account the views of Liberia's grassroots communities, who have historically been excluded from policymaking. Civil-society organisations gave them a voice.
For the first time in history, the customary rights of Liberia's village communities are protected by formal legislation. Among other things, the law's provisions state:
Communities define who they are themselves, though they must not exclude residents or discriminate against them.
Community members are considered to be private owners of their customary lands.
Oral testimony establishes customary ownership, so paperwork or a formal title are not necessary.
Women, youth and members of minorities have equal ownership claims to their ancestral lands and equal rights to use and manage community land.
Communities can decide themselves, how their customary land is governed. They have to establish land governance bodies which must decide by consensus and have appropriate representation of men, women and youth.
Outsiders cannot interfere with customary lands unless they have the local community's free, prior and informed consent.
Community members may continue to use land designated as "protected areas" for their livelihoods.
The law is designed to resolve problems that have caused conflict and strife in the past. In 1847, Liberia became an independent state. It was not a colony, but in important ways its social reality reflected imperialist power structures.
Liberia was founded and run by freed slaves from the USA. They and their offspring dominated politics. They relied on formal law, which state agencies would enforce throughout the country. By contrast, the rural people mostly lived according to the traditional rules of various tribes. There were thus two kinds of land rights: customary land rights and formally acknowledged land rights.
Rural communities used land for farming and raising livestock, and they also hunted wildlife and gathered other resources in the forests. They managed disputes among themselves according to their traditional rules. If, however, their interests clashed with those of members of the country's dominant social strata, they lacked deeds and other documents to prove their land ownership. The urban-based elite generally prevailed in disputes. For many decades, Liberia thus had a system of multiple rules which were defined by formal law and various tribal customs.
It was a recipe for permanent tensions and repeated conflicts. Poor rural people could not rely on state agencies' protection of their rights. Mining and logging industries often displaced villagers. While large plantations were protected by formal law, smallholder farmers owned their land only according to customary law.
Violence escalated brutally in Liberia's civil war from 1989 to 2003. Thanks to the Comprehensive Peace Agreement that was signed in Accra in 2003 and the deployment of the UNMIL peacekeeping mission, elections could be held in 2005. Ellen Johnson Sirleaf became the president. The peace agreement acknowledged that unresolved land inequities had been a driver of civil strife.
As Stanley Toe, the current executive director of the Liberia Land Authority, recalls, the new head of state wanted to tackle the matter. She understood that it had the potential for tumbling the country back into war unless it was resolved. Accordingly, the parliament established the Land Commission in 2009. It included representatives of civil-society organisations. Over the years, their contributions to the debate proved very important, argues Toe.
The Commission had the task to draft a policy on land ownership. Its work in­cluded nationwide stakeholder consultations, extensive collection of data and evidence as well as legal reviews. In March 2013, the government adopted the commission's policy proposal.
According to this new approach, there are now four categories of land ownership:
public land, which is owned, but currently not used by the government,
government land, which is used by state agencies (for office buildings and other purposes),
customary land, on which the livelihoods of most rural communities depend, and
private land, which is owned by a private person.
The policy was widely appreciated, but it soon became evident that a law was needed to ensure consistent land governance as well as legal certainty for every category of land ownership. The legislation process began, but soon ran into trouble. As Frances Greaves, the founder of the non-governmental organisation Voice of the Voiceless, reports, legislators kept watering down important rights. Civil-society organisations were disappointed because powerful government officials and vested interests were doing their best to once again marginalise rural communities. The debate dragged on over the years.
In response to the obstruction, the Rights and Rice Foundation and the Sustainable Development Institute convened other non-governmental organisations to form the Civil Society Working Group on Land Rights. Together, they spelled out serious criticism of the modified draft law that was passed by the lower legislative chamber in August 2017. Important points included:
Women's land rights were not recognised at all.
Too much customary land was considered to be public land, which the government would be entitled to make use of in spite of villagers' livelihoods depending on it.
No provisions were made to ensure that communities were guaranteed free, prior and informed consent in regard to any concessions or investments made on their customary land.
Reaching out to stakeholders
The civil-society organisations did not only lobby legislators and took part in meetings convened by the authorities. They reached out to all relevant stakeholder groups, and – most important – to the rural public, engaging people at the grassroots in the debate.
According to Alphonso B. Henries of the Liberia Land Reform Movement, it proved useful that civil-society organisations were active at this level. They were in touch with rural communities and aware of their needs. Moreover, they were able to mobilise people. Henries reports that the activists' stance was diplomatic rather than confrontational, as civil-society organisations were striving to build bridges.
Rural outreach mattered very much because one of the big challenges in regard to protecting customary rights was that these rights differ from region to region and from tribe to tribe. Moreover, the traditional rules were mostly not documented in writing, since they had been passed down orally from generation to generation. It further complicated the situation that many communities had been displaced by war. Civil-society activism empowered rural people, many of whom are still illiterate, to spell out their demands.
At the same time, there was an obvious need for action. The reason was that the government wanted to speed up economic growth. It sold land and granted mining as well as logging concessions to investors, including foreign businesses. As in earlier times, the rights of the rural poor were not respected. One consequence was deforestation (see Silas Kpanan'Ayoung Siakor in D+C/E+Z 2013/10, p. 366). Many people were evicted by force. Given that the communities concerned had often lived on the land for decades, E. Musu Coldman of the National Concil of Chiefs and Elders insists that they should have been consulted at the very least.
In 2017, Liberia held the most recent elections. For the first time in more than 70 years, power was peacefully transferred from one elected government to the next. Many legislators lost their seats in parliament to competitors. When the country's new president George Weah referred to the "fundamental issue of land" in his inaugural speech, he opened the window for continuing the struggle for meaningful land legislation, and the issue was taken up by newly constituted committees.
This summer, the debate of more than a decade finally resulted in the new Land Rights Act. Civil-society organisations particularly appreciate its clauses concerning customary land.
The reform is an important step towards securing their welfare. According to Senator George Tengbeh, who represents Lofa County and was one of the legislators who promoted the new bill, the law reduces the scope for conflict. To ensure that the innovative legislation is equitably enforced, however, more work needs to be done. Tengbeh says, that people must now be made aware of its provisions.
The senator expects civil-society organisations to support such efforts, and they certainly will do so. Unless people understand their rights, they will not be able to defend them.

Sahr Nouwah works for Welthungerhilfe in Liberia. He heads the land rights programme, working in close collaboration with Liberian civil-society organisations. Funding for this work is provided by Germany's Federal Ministry for Economic Cooperation and Development (BMZ) and the European Commission.
sahr.nouwah@welthungerhilfe.de
Roselyn Korleh works for the Rights and Rice Foundation, and is co-convenor of the Civil Society Working Group on Land Rights.
rtkorleh@gmail.com