Pollution
Poor and poisoned
There is a severe shortage of affordable housing in Zambia. As a consequence, informal settlements are sprawling in urban areas. About 70 % of urban dwellers live in slums with inadequate access to water and sanitation facilities. Some slums are even built near toxic waste dumps.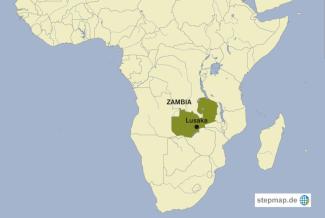 stepmap.de
Zambia has a shortage of about 1.3 million decent housing units. Until 2025, the shortage is expected to reach 3 million units, according to the humanitarian organisation "Habitat for Humanity".
Lack of housing forces poor people to build shacks and live in makeshift settlements without safe drinking water and proper sanitation services. Slums are mostly built on land prone to flooding; consequently, residents suffer from diseases related to stagnant water such as cholera and malaria.
Mukululu is the largest unplanned settlement in the country, located on the outskirts of the city of Kabwe in central Zambia. It is built near the defunct Kabwe Mine, where zinc and lead were mined and processed from 1906 to 1993.
Kabwe is heavily polluted due mostly to heavy metal tailings that made their way into the local water supply. Although the mine has been closed for the past 25 years, the lead that precipitated from the smelter's chimney settled in the ground. People suffer from lead poisoning even today. While in operation, there were no pollution laws regulating emissions from mines and smelter plants; neither was there any clean-up when mining was discontinued.
In 2012, a study of 246 Kabwe children under the age of seven years showed "alarming high blood lead levels", according to a report by the World Health Organization (WHO). It refers to samples from Makululu and surrounding places. Unemployed youths from Makululu scavenge for metals from the toxic mine dumpsites, risking lead poisoning and ensuing brain, liver and hearing damage.
Apart from poisoning, there are other health hazards for local slum dwellers: since houses in Makululu are built from mud bricks, they often collapse during the rainy season. This forces the government to offer temporary shelter and food to affected families.

Humphrey Nkonde is the assistant to the editor-in-chief at Mission Press and a media researcher. He lives in Ndola, Zambia.
humphrey_nkonde@ymail.com

Link
Habitat for humanity report on unplanned settlements in Zambia:
https://www.habitatforhumanity.org.uk/country/zambia/