Libya
Libya lapses into Gaddafi nostalgia
When crowds flooded the streets and squares in various Libyan cities on 17 February 2011, they were demanding a better future with freedom and prosperity. Now, more than ten years after the collapse of the Gaddafi regime, it is obvious that their dreams have been turned to ashes.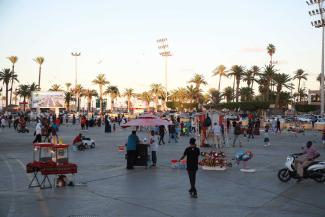 picture-alliance/AA/Hazem Turkia
In the last decade, Libyans have suffered instability, civil war, uncontrolled armed militias and corrupt elite politicians failing to conduct any elections since 2014. Moreover, terror militia ISIS made the country one of their main operating centres. As if that were not enough, Libya became a main gate for smuggling hundreds of thousands of illegal migrants to Europe, where governments reacted with corresponding irritation.
Regional and international conflicts over resources in Libya also keep the country unstable. Turkey has a declared military presence in the west of Libya while Russia did the same in the east. The United Arab Emirates (UAE) and Qatar have funded and established different Libyan-operated media outlets which mainly fuel violence and conflict by using hate speech and promoting bloodshed through their content. Egypt and Algeria have never been particularly helpful in stabilising their neighbour, and Tunisia has itself been hit hard economically by the conflict in Libya.
In the wake of this devastating situation, many Libyans who were dreaming of a better future are now dreaming of the past again and, despite all its hardships, are beginning to recall the Gaddafi era with nostalgia.
This nostalgia has its roots in the consecutive setbacks of the past ten years, but also in the erosion of the quality of life in all aspects such as the country's infrastructure. "You see, we had a big airport with daily flights to dozens of destinations, including Europe. Now we have only a very small and modest one with flights to just four or five destinations," says Libyan tour operator Fouad Fazzani.
Vast and lasting economic damage
Tripoli's international airport was torched in 2014 in one of the heaviest battles between the military and civilians the country has ever seen. Since then, former domestic airport Mitiga is in use. The travel industry is just one of the sectors severely affected by the situation in Libya. It has lost billions of dollars, while thousands of people have lost their jobs. Fazzani adds: "A few years before the revolution, we started hosting thousands of tourists and organising trips for them all over Libya. Now, this promising industry has been destroyed due to the devastating situation the country has been facing since 2011."
Also, most investments in real estate projects have been frozen, and already established construction sites are now abandoned. One example is the "Great Man-Made River" project, once the world's largest drinking water pipeline project to improve water supply for the population and agriculture. The expansion of one of the last phases of the project, which was to supply the Jabal Nafusa, an arid mountainous area in the northwest of the country, was stopped after the revolution.
Libya's financial resources are largely in the hands of corrupt politicians allied with armed militia leaders and backed by various foreign players such as Russia, Turkey, Qatar and the UAE. Many Libyans see the situation this way: They all serve their own interest, while the people struggle to feed their children.
"Other countries want to keep the situation in Libya unstable by scaring people with the militias they have established and using corrupt politicians as instruments to steal our resources on their behalf," says Doukali Meghri, a Libyan political analyst. He adds: "That's why those countries continue to support different conflicted local parties. They want them to continue fighting each other. Elections would not serve their interests, because everyone wants to keep their corrupt congressmen and political allies."
Even the despair of the current situation, however, cannot disguise how much Gaddafi harmed his country and people for the 42 years of his rule. Not only has he made many enemies in the world, violated human rights and massively suppressed freedom of speech, but he has also failed to develop important sectors, such as education and health, despite the country's enormous resources. Up to today, Libyans are suffering the consequences of this neglect.

Moutaz Ali is a journalist living in Tripoli, Libya.
ali.moutaz77@gmail.com