Nursing care and support
A new intergenerational compact
The restrictions on movement resulting from the Covid-19 lockdown brought large parts of Germany's nursing care and support ­system to a standstill, and that, in turn, showed how heavily this system depends on private care workers. Female workers from abroad matter in particular. Reforms with a view to better pay for – and more recognition of – care providers would make sense.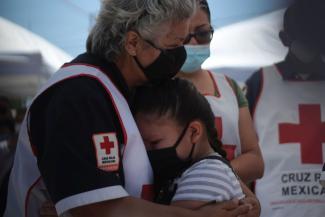 David Peinado/picture-alliance/NurPhoto
The German care system places on families the primary burden of caring for children, the elderly and incapacitated relatives. Legal regulations perpetuate the traditional division of labour. Most care providers are women.
However, more and more women earn money so they are no longer able or willing to do unpaid care work. Ever more families are forced to outsource care, either to institutions such as day-care centres, schools or nursing homes, or to privately-hired domestic helpers, including au pairs or live-in carers.
Increasingly, immigrant women are doing the care work. Border closures during the Coronavirus lockdown, however, showed that immigrants can neither be present all the time, nor can they protect themselves consistently from work-related risks.
In short, the German system for providing nursing care and support has reached its limits. Policies on the matter were already deficient in the sense of not meeting social needs before the pandemic. Current regulations do not require care workers to have appropriate skills, nor do they drive the creation of a nationwide network of professional providers.
Jens Spahn, Germany's federal health minister, wants to remedy the shortage of skilled staff in hospitals and nursing homes by recruiting trained nurses from Mexico and the Philippines. Such efforts highlight systemic deficiencies. Without change, the care system is unsustainable.
One consequence of the current policy is that migrant care workers – most of them women working with temporary permits – tend to labour in difficult circumstances which sometimes are actually illegal. Nonetheless, they are essential workers who are supposed to keep the care system running, thereby reinforcing the illusion that German women can easily make family life and professional careers compatible.
This system, moreover, exploits a wealth and wage gap between Germany and migrants' home countries (see Richa Arora in the D+C/E+Z e-Paper 2020/06, Debate). Private-sector companies and state agencies in Germany are trying to pay as little as possible when managing their care obligations. The current system basically shifts responsibility to subcontractors and to women from foreign countries. An implication is that those countries lose skilled workers. The women's families are affected in particular. It makes sense to say that care work is being extracted from the economies concerned in the same way that raw materials are exploited. Some accurately speak of international "care chains". Ultimately, children, dependent relatives and people with disabilities end up without support because the caregivers have left. That mostly happens in the global South and eastern ­Europe, of course.
Instead of perpetuating this pattern, Germany's Federal Government should overhaul its approach to care provision. The new approach should take into account requirements of global development, among other things. Moreover, Germany's governmental social-protection insurances should cover all people doing private care work, whether for children, the aged or incapacitated persons. Payroll taxes would have to be collected accordingly.
Moreover, it would make sense to set up a global social-security fund. Carers in rich and poor nations alike deserve pensions, child benefits and unemployment benefits when needed.
The care crisis cannot be solved by exporting it or by making it invisible. What we need instead is a new intergenerational compact that enables people to combine employment and care work. Employment and care work must be compatible for all – for women and men, for rich and poor, for migrants and those who stay in their home countries. Moreover, reforms are needed to provide greater financial rewards and non-material recognition to those who do care work.
A first step would be to include all related efforts such work in the calculation of gross domestic product. GDP measures prosperity, which, to a large extent, is based on care work. So far, national income statistics give no clear picture of who wins and who loses in the current settings. Nor do they make it clear which activities are "system-relevant", especially in a global context. The burden of care work is not shared in a fair manner – to the detriment of young women's professional development all over the word. Moreover, the impacts on the economic development of countries in the global South are negative too.
Universal access to free public education, health care, clean water, sanitation and domestic energy systems must be guaranteed worldwide. Otherwise, any future crisis comparable to the Covid-19 pandemic will intensify existing social inequalities.

Almut Schnerring and Sascha Verlan jointly wrote a book with the title "Equal care". It was published by Verbrecher Verlag (Berlin, 2000) and is only available in Germany.
kontakt@wu2k.de
They also launched an action day for civil society:
"Equal Care Day":
https://equalcareday.de/en/

Link
Equal Care Manifesto:
https://manifesto.equalcareday.de/