Migration
India's diaspora is influential, though few members vote
Non-resident Indians (NRIs) have a bearing on the nation's politics, society and culture. All major parties enjoy some support among the diaspora.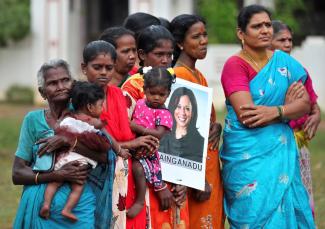 Aijaz Rahi/picture-alliance/ASSOCIATED PRESS
In India, this winter has been marked by farmers' protests. Thousands of farmers, particularly from the Sikh community dominated state of Punjab congregated in large groups in Delhi to protest against a new farm bill, which the farmers fear means loss of subsidies for them. The government wanted to give market forces greater sway.
The protestors faced police repression as well as tough weather conditions. While things looked grim domestically, prominent expats – in particular from the Sikh community – picked up the cause. Obviously, many of them have close relatives in India, and many of those families depend on agriculture.
Tanmanjeet Singh Dhesi, who is a member of the British Parliament and belongs to the Labour Party, had tweeted, "I stand with farmers of Punjab and other parts of India, including our family and friends, who are peacefully protesting against the encroaching privatisation of #FarmersBill 2020".

Another prominent protest supporter was Canada's defence minister, Harjit Sajjan, who is also a Sikh. A tweet of his read: "The reports of peaceful protesters being brutalised in India are very troubling." Even Canada's Prime Minister Justin Trudeau weighed in, telling his people that his government had "reached out through multiple means directly to the Indian authorities to highlight our concerns".
Given the context that Sikh political lobbying is a strong force in Canadian politics this is not surprising. Indeed, 18 of 338 members of the country's national parliament belong to this particular community. As a consequence, all major Canadian parties have commented on the controversial reform plans in India.
In January, the Supreme Court blocked the reform plans. The government is working on sorting things out in negotiations with famers' organisations. The situation remained tenth, and at the end of the month, protestors disrupt Republic-Day celebrations in Deli and stormed the famous Red Fort.
An important point the protests highlighted, how­ever, was that the diaspora has an impact on how the country of origin develops. India's Prime Minister Narendra Modi does not appreciate what he considers foreign interference in domestic affairs. The full truth, however, is that whatever concerns Sikhs in India becomes an issue for their community abroad. More generally speaking, the entire Indian diaspora has an impact on the home country.
Modi, a right-wing populist, is uncomfortably aware of centre-left members of this diaspora assuming important positions in the administration of US President Joe Biden, including, most prominently, Vice President Kamala Harris, whose mother was from Tamil Nadu. Many Indians are proud of such achievements and consider leaders like Harris role models. The full truth is that all major Indian parties, including Modi's Hindu nationalist BJP, enjoy some support from NRIs and want the domestic public to take note. In political terms, Modi was much closer to Biden's predecessor Donald Trump, whose administration also included persons with an Indian background. The most prominent was Nimrata Nikki Haley, who served as UN ambassador until the end of 2018. Indeed, Trump too enjoyed considerable support from the Indian diaspora, and tens of thousands of them celebrated him and the Indian head of government at a mass rally in Texas in 2019. The motto of the event was "Howdy Modi".

31 million people
India, one of Asia's two "population giants", has 17.5 million migrants living outside the country according to the UN's International Migrant Stock of 2019. The Indian diaspora has increased 10 % from 15.9 million in 2015. It now comprises 6.4 % of the total global migrant population, making it the largest in the world. Indians constitute the largest number of highly-educated migrants in the OECD countries. At the same time, there are many unskilled migrants as well, especially in the oil-rich-Gulf nations. India's Ministry of External Affairs reckons that the full number of NRIs and people of Indian descent was 31 million in 2019.
In recent decades, India has thus been among the world's top recipients of remittances, the money that migrants sent home. In 2019, those transfers made up a little less than three percent of the country's gross domestic product (see Dilip Ratha in Focus section of D+C/E+Z e-Paper 2021/02). Due to the Covid-19 pandemic, the total amount of remittances was projected to fall by nine percent to $ 76 billion in 2020.
The influence of the diaspora, however, goes far beyond monetary transfers. India's IT sector benefits from international networks that link it to Silicon Valley and other international tech hubs. The same is true of engineering firms in general.
In the long run, moreover, migrants who prosper in foreign countries have an impact on the attitudes of people who stayed behind. Their example shapes gender stereotypes, for example. Bollywood films have tackled diaspora topics, and some were even set abroad.
According to Ingrid Therwath, a French journalist who wrote her PhD dissertation on the diaspora's impact on Indian politics, the perception of NRIs is ambiguous. They are seen to represent both "capitalist and consumerist modernity" but also "patriarchal Hindu traditionalism". On the one hand, they are considered to be "an instrument of western modernity in India", but they also stand for "India's recognition as an international power in the west". In many cases, successful migrants prove how important a formal education can be, especially when members of lower castes rise to influential positions in advanced nations. On the other hand, high-caste Indian IT experts have been found to discriminate against lower caste co-workers in California, which shows that Diaspora communities have an impact on both home and host countries.

Indian elections
So far, the direct impact of the diaspora on electoral politics in India has been marginal. NRIs who have the Indian citizenship are eligible to vote, but they have to be registered and physically present in India to go to the polls. Accordingly, a mere 25,000 of them were reported to have participated in the general elections in 2019. On the other hand, NRIs did play a role in terms of donating to campaigns, promoting the parties of their choice on social media, providing technical advice and lending other forms of support.
India's Election Commission, however, has recently proposed to extend the postal ballot system to NRIs. Test runs are being considered in sub-national elections this year – in the states of Assam, Kerala, Puducherry, Tamil Nadu and West Bengal.
The hotly debated question, obviously, is which parties would benefit. Some political scientists think that the Congress party would be at an advantage. Others disagree and point out that Modi's BJP has done a lot to garner support from the Hindu diaspora. The Left Front, which is currently running the state government in Kerala, might also benefit from NRI votes. About 75 % of the NRIs who are registered to vote in India are from this state, and its government has made considerable efforts to promote their interests. Kerala is special because it has large Muslim and Christian populations, and a long history of labour migration to the Gulf States.
Whether the number of NRIs voting in Indian elections will rise considerably, remains to be seen. What is obvious already is that, to have an impact on the nation, this diverse community does not need to vote.

Roli Mahajan is a freelance journalist based in Lucknow.
roli.mahajan@gmail.com